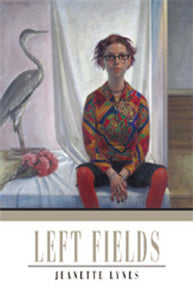 Left Fields
Jeanette Lynes
January 2003
88 pages | ISBN 978-0-919897-88-5
Left Fields, Jeanette Lynes's second collection of poetry with Wolsak and Wynn, consolidates her reputation for writing clear-eyed, accessible and deadly funny poetry. In her first book she introduced us to a difficult childhood in Southern Ontario; in Left Fields she revisits the solid, angry/loving bond with her mother, the attitudes she adopts as weapons against the world, and the left fields of her childhood.
Reviews
Review (Anne Burke, Feminist Caucus, 02/05/2014)
Anne Burke summarizes and quotes from Left Fields for the Feminist Caucus.
Idea and Parody (Laurie Ricou, Canadian Literature 193, 01/07/2007)
"A delightful series of poems on song and pop culture honour, however caustically, Shania, Paul Anka, Glen Gould, and the Guess Who."
Review (Maxianne Berger, ARC 54, 6/1/2005)
"In Left Fields, Jeanette Lynes takes the readers through many such gates, and with enough joie de vivre surely no one can call her 'melancholy.'"
Poetry for the Ear (M. Travis Lane, The Fiddlehead, No. 223, 3/1/2005)
"She has a stand-up comedienne's manner: a sort of deadpan throw-away demeanour. Her work has many literary references and often becomes humorous commentary on freshman English."
Review (University of Toronto Quarterly, 12/1/2004)
"There is a nice death-and-resurrection idea working in Jeanette Lynes's poem 'Dead People's Clothes,' which finds the cycles of love and loss in an amity clothing bin."
Review (Martin Wallace, The Malahat Review, 147, 6/1/2004)
"Her prevailing theme is the uncertain and uneasy compromises that women must make to negotiate their position in this world. Lynes' female characters are neither victims nor outraged feminist warriors, but instead women engaged in compromises between their own complex desires and the expectations of society."
In praise of new Canadian poetry (George Fetherling, The New Brunswick Reader, 4/3/2004)
"She's a poet who's not afraid to be devastatingly funny. When she's got the reader laughing she moves in for the kill, often with the smallest flicks of the knife, after we've come to believe we're inured to such tiny surprises."
Bad girl locker room stuff (Toronto Star, 10/20/2003)
"Lynes is at her best when cultural worlds collide, for she has an appealing way of combining comedy and pointed social observation."
About the Author
Jeanette Lynes' poems have been shortlisted for The Pat Lowther Memorial Award, The Matrix Lit POP Award and Room Magazine's poetry contest, among others. They have received The Banff Centre Bliss Carman Poetry Award and The New Quarterly's Nick Blatchford Occasional Verse Award. Jeanette's novel, The Factory Voice, was longlisted for the Scotiabank Giller Prize and a ReLit Award, and Bedlam Cowslip: The John Clare Poems, Jeanette's seventh book of poetry, won the 2016 Saskatchewan Arts Board Poetry Award. Jeanette lives in Saskatoon where she directs the M.F.A. in Writing at the University of Saskatchewan.
Other Titles by this Author
Bedlam Cowslip: The John Clare Poems (2015)
Archive of the Undressed (2012)
The New Blue Distance (2009)
---
We Also Recommend