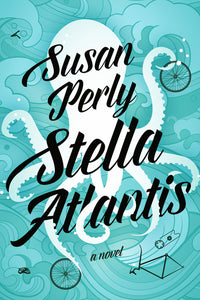 Stella Atlantis
Susan Perly
NOVEMBER 2020
338 pages | ISBN 978-1-928088-96-7
With the dead you can go anywhere.
When novelist Johnny Coma's daughter comes back from the dead as a talking octopus, will he be finally be able to write her story? Will his estranged wife, renowned war photographer Vivienne Pink, even believe him? In Stella Atlantis, the stunning follow-up to her visionary desert novel Death Valley, Susan Perly returns to the lives of these troubled artists, haunted by the death of their young daughter, Stella, killed on the sidewalk outside their home, as they search for healing in separate cities and with new lovers. 
Moving in and out of Toronto, Amsterdam and Barcelona, across the Mediterranean to Ibiza and out to the Canary Islands in the Atlantic Ocean, Perly's prose enacts grieving itself in the twinned stories of Johnny and Vivienne. Playfully dark and filled with beautiful flights of imagery, this is a story of fathers and daughters, of love lost and love reborn, of the redemptive power of art, the transformative power of the sea and how we can dare to reach for radiance and redemption.

Advance Praise
"Perly whirls a flaming sword to ignite a high-voltage world that feels unknown yet familiar: that half-forgotten, beloved place where we were supposed to be born. Elemental genius." – Kathleen Winter, author of Annabel and Lost in September
Interviews
The Bill King Show with author Susan Perly (Bill King, The Bill King Show, 12/03/2021)
An interview with Susan.
Susan Perly on Writing Grief, Reading Don Quixote, and Why Her Favourite Character is a Talking Octopus (Open Book, 12/11/2020)
"We're mostly water when we're born, we lose our water as we age. We're bereft of the ocean and seas. My wrists craved water words, my writerly self kept picturing my characters from Death Valley removed from three per cent humidity to ninety-three per cent

Articles
Best Indie Fiction and Literature of 2021 (Kirkus Reviews, 19/01/2022)
Susan's novel makes this list of best fiction of 2021!
Lead with your scars: Healing through visual art (Susan Perly, All Lit Up, 06/11/2020)
"The waterworks came from the mysterious encounter with the large painting, its muscular delicacy; the waterworks came from nada, from todo." Susan shares a beautiful essay with All Lit Up.

10 Canadian books coming out in November we can't wait to read (CBC Books, 03/11/2020)
The people over at CBC Books can't wait to read Susan's latest novel.

60 works of Canadian fiction coming out in fall 2020 (CBC Books, 31/08/2020)
Susan's novel is listed as one of 60 works of Canadian fiction coming out in fall 2020.

Most Anticipated: 2020 Fall Fiction Preview (49th Shelf, 09/07/2020)
Susan's novel makes the 49th Shelf's Most Anticipated Fiction for Fall 2020.
Excerpt
Read an excerpt from Stella Atlantis.
About the Author
Susan Perly is a fiction writer, former radio journalist and war correspondent. She is the author of the novels, Death Valley and Love Street, and her short stories have appeared in numerous magazines and anthologies.
In an earlier life chapter, Perly reported for CBC Radio from conflict zones, such as the Iran-Iraq War in Letters from Baghdad, from the Guatemalan refugee camps of the Mexican jungles, and from Argentina and Uruguay during their military regimes. In the 1980s she was part of an international commission investigating the torture and disappearance of journalists and artists in those countries. Her on-site engagements in the fields of tyranny have informed her fiction.
Perly lives in her hometown Toronto with her husband, poet Dennis Lee.
OTHER TITLES BY THIS AUTHOR
Death Valley (2016)
---
We Also Recommend