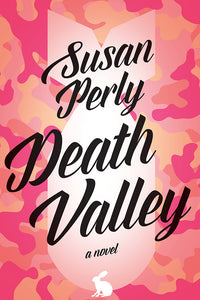 Death Valley
Susan Perly
May 2016
312 pages | ISBN 978-1-928088-10-3
**Longlisted for the Scotiabank Giller Prize**
Susan Perly astonishes in this tale of dark humour and lyrical beauty; an ever-intensifying love triangle, road novel and revenge plot that zooms to a mind-bending finale.
Love is complicated. It's 2006 and Vivienne Pink, a photojournalist with an eye for war, is flying to Las Vegas to capture images of servicemen deploying for combat in Iraq. Together with her novelist husband and their housemate, an intelligence operative, Vivienne plans a side trip to Death Valley to confront an old enemy, but her scheme is soon complicated by a handsome young soldier on his way to war and a retired counterterrorism agent wearing a bird suit. Together they begin an atomic road trip through empty canyons, old film locations and the Nevada desert's nuclear test site, where reality shifts like sand beneath their feet. This is Death Valley, and the fallout is hilarious and harrowing.
Advance Praise

"Reading Death Valley is like going on a road trip into the hallucinatory landscape of the CIA's repressed memories. Hypnotic and startling, with a cast of troubled artists and agents, this sensual novel is a lush fever dream of power, politics, betrayal and revenge. With scenes so vivid and unflinching and downright bizarre, this novel gets under your skin like the desert sand at its core." – Jennifer LoveGrove, author of Watch How We Walk and I Should Never Have Fired the Sentinel
"Equal parts Twin Peaks and Alice in Wonderland, Susan Perly's Death Valley is a film-noir-spy-western – hallucinogenic, thought-provoking and bizarre enough to satisfy anyone who thinks about art, nuclear fallout, classic films, conspiracies or love. It's wild enough to be fiction, and real enough to blow your mind." – Michelle Berry, author of Interference and Blind Crescent
Reviews
"Defining Landscapes" (Alison Calder, Canadian Literature, 03/08/2017)
"Susan Perly's novel Death Valley takes on a devastated landscape that is simultaneously celebrated and erased in North American consciousness. Her principal characters move through scenery that is the setting for glamorous Hollywood versions of the West and also the site of atomic tests past and present."
"Death Valley: A Novel by Susan Perly" (Gerilee McBride, SubTerrain, 01/17/2017)
"We encounter strange half-human, half-animal creatures as the group moves through Death Valley hitting up diners, motels, army-restricted areas, ghost towns, and old film locations in a voyage that goes in and out of focus as the perception of time recedes and flows."
"'Death Valley' by Susan Perly" (Lauren Siddall, Winnipeg Review, 10/31/2016)
"The novel becomes a commentary about the state of the world in which atomic bombs and wars have become commonplace. Thus, the absurdity of the world Perly describes is in fact a lament for the absurdity of the world we live in – a world that has played host to cold wars, world wars and too many other tragedies to count."
"Review: New work from Jane Eaton Hamilton, Myrna Kostash and Susan Perly" (Jade Colbert, Globe and Mail, 08/07/2016)
"A soldier, a novelist, a war photographer, an intelligence operative and a counterterrorism agent in a bird suit take a hallucinogenic road trip in Susan Perly's difficult-to-define novel about war, weaponization and fallout in the desert.... Vivienne Pink, the tough-but-damaged photojournalist, is an anti-hero for the traumas of the past half-century."
"Death Valley an absurd take on an absurd world" (Dene Moore, Toronto Star, 05/15/2016)
"The novel defies genre, mashing up generous helpings of pulp fiction and spaghetti westerns with an abridged history lesson on America's nuclear heritage.... Hypnotic in its weirdness, Death Valley laments a world that has played host to the Cold War, the atomic bomb, and wars big and small from Vietnam to Iraq."
Interviews
"Heart Full of World [Part 1]" and "Heart Full of World [Part 2]" (Canisia Lubrin, The Puritan, 05/25–27/2016)
"Death Valley is a nimbly told tale of five characters, living war and love and art in a desert. There's story that lets the reader in and there's story that makes a voyeur of the reader. And then there's Death Valley, where you're caught in a whirlwind: you're accomplice and voyeur, you're oscillating between world and narrative, you're at war with yourself, with the world and its untouchable, tactile ruins. Of that place you'd be happy to know, squarely, that its beginning, middle, and end are yours, and yet are not. In Death Valley, you find yourself in the embodied world: penned, pictured, and pulsing."
"In Character Interview with Susan Perly" (Open Book Toronto, 05/27/2016)
"Susan tells us about the writer as god vs. the writer as archeologist (and why she is the latter), what she and Vivienne have in common, and gives us a poetic answer to what she'll be working on next."
Articles
Gift Guide Week: Canisia Lubrin
(Canisia Lubrin, 
All Lit Up, 
30/11/2017)
"[Y]ou can rest assured that Perly is a deft writer who has given us a cast of characters beautifully written. I think particularly you will be challenged by these characters, the ways they let us question the nuanced and fraught relationship between our bodies and the earth."
Excerpt
Click here to read the first two chapters of Death Valley
About the Author
Susan Perly has worked as a journalist, war correspondent and radio producer for the CBC. In the early '80s her Letters from Latin America for Peter Gzowski's Morningside reported from locales such as El Salvador, Guatemala and Chiapas. During the Iran–Iraq war she broadcast Letters from Baghdad, and she produced many documentaries for the weekly program Sunday Morning. Perly is the author of the jazz novel Love Street, and her short stories have appeared in numerous magazines and anthologies. She lives in Toronto with her husband, the poet Dennis Lee.
OTHER TITLES BY THIS AUTHOR
Stella Atlantis (2020)
---
We Also Recommend