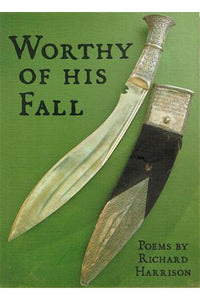 Worthy of His Fall
Richard Harrison
January 2005
78 pages | ISBN 978-1-894987-04-2
Governor General's Award-winning poet Richard Harrison's latest collection is a meditation on fathers, fatherhood, God and war. Powerful images of aging and death are cut with bright slivers of childhood, all set against the backdrop of the war in Iraq, and the questions war and death raise. Harrison's transparent verse and beautiful ability to capture the voices around him draw the reader into what may be his best collection yet.
Reviews
Worthy of His Fall (Liam Ford, PoetryReviews.ca, 7/15/2006).
"Harrison reveals beauty in death and we understand there are some things that can only be captured in words, and in times of war it is in the sanctuary of these words — love, faith, heaven — that we find whatever solace we can."
The kind of Luck that finds your husband dead beside you (Christopher Wiebe, Vue Weekly, 2/23/2006).
"The voice in Harrison's poems demonstrate a ruthless, transparency of thought we hide from even those we love. In this nakedness and vulnerability, Harrison finds a terrible, necessary beauty."
Excerpt
"Heaven"

When my father saw the signs
that he might die if he did nothing,
and he might die anyway at that,
blood thickening in his stomach
like red wax poured in a cold cup,
he took a bath.
While the ambulance sang
to him from the streets,
he undressed and took a bath,
my father, alone and naked
in the water, ready for his heaven.
About the Author
Richard Harrison's eight books include the Governor General's Award–finalist Big Breath of a Wish, and Hero of the Play, the first book of poetry launched at the Hockey Hall of Fame. He teaches English and Creative Writing at Calgary's Mount Royal University, a position he took up after being the Distinguished Writer-in-Residence at the University of Calgary in 1995. His work has been published, broadcast and displayed around the world, and his poems have been translated into French, Spanish, Portuguese and Arabic. In On Not Losing My Father's Ashes in the Flood, Richard reflects on his father's death, the Alberta Flood and what poetry offers a life lived around it.
Other Titles by this Author

25: Hockey Poems, New & Revised (2019)
On Not Losing My Father's Ashes in the Flood (2016)

Secret Identity Reader: Essays on Sex, Death and the Superhero (2010)
Now is the Winter: Thinking about Hockey (2009)
Hero of the Play: 10th Anniversary Edition (2004)
Big Breath of a Wish (1998)
---
We Also Recommend