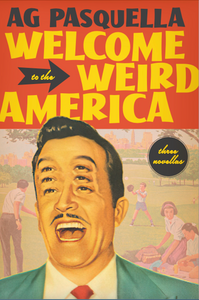 Welcome to the Weird America
A.G. Pasquella
October 25, 2022
324 pages | ISBN 978-1-989496-58-9
**Finalist for the 2022 Foreword INDIES Award for Science Fiction**

A.G. Pasquella's Welcome to the Weird America brings together three of his brilliant, fabulist novellas, each of which is filled with strange language and extraordinary surprises. From questions about money and God to environmental collapse, to the intersection of humanity and technology, Pasquella tackles complex subjects with deep delight and beautifully surreal prose. In Why Not a Spider Monkey Jesus?, a talking chimpanzee becomes a televangelist. In NewTown, a teenage boy named Sammy joins a motley band of rebels intent on overthrowing the bungling admiral of a huge spaceship. And in The This & the That, Pasquella takes us back to the old weird America, an America of hucksters and hobos, cartoons and carnivals. These mesmerizing stories take us on a fascinating journey down an unknown road with no end in sight.
Advance Praise
"This book is like the biggest carton of Neapolitan ice cream you could ever dream of, but instead of chocolate, the third flavour is a lit stick of dynamite." – Jack Pendarvis, writer for Adventure Time and Steven Universe
Reviews
Library 2022 (Lisa de Nikolits, the Minerva Reader, 11/25/2022)
"Full of Altmanesque observations with a good twist of Hunter S. Thompson but uniquely, completely A.G. Pasquella!"

Interviews
WELCOME TO THE WEIRD AMERICA BY A.G. PASQUELLA (Terri Favro, Miramichi Reader, 09/01/2023)
"Whenever I get stuck, I think when I'm the room with a character I think, who else is there? What are they wearing? What's outside the window? Then you can make connections you might not have made otherwise."
E320 with A.G. PASQUELLA (Jamie Tennant, Get Lit, 05/01/2023)
A.G. talks to Jamie Tennant about Welcome to the Weird America.

Articles
Message in my bottle: I sentence you to drink me! (Carola Vyhnak, the Toronto Star, 16/02/2023)
A.G. finds joy — and weirdness — in the things he keeps around his house.

7 Uniquely Weird Books (A.G. Pasquella, 49th Shelf, 11/21/2022)
A recommended reading list from A.G.
AG Pasquella's book 'Welcome to the Weird America': a journey from self-published to indie noir success (Steven W. Beattie, the Toronto Star, 10/11/2022)
". . . giddy disorientation, co-mingled with a sense that an ineffable truth is hiding behind all the esoteric exaggeration, cascading puns and pop cultural references. Pasquella's hybrid approach draws equally from literary postmodernism and classic comic books."

22 Canadian books that will get you in the Halloween spirit (CBC Books, 26/10/2022)
It's wonderful to A.G.'s book on this great list from CBC.
Guest Essay: A.G. Pasquella on Slipstream, New Weird, and the Wonderfully Strange History of "Weird Fiction" (A.G. Pasquella, Open Book, 25/10/2022)
A.G. Pasquella shares this great essay talking about the category, and idea, of weird fiction.

New Books: 11 October 2022 (Locus, 11/10/2022)
Welcome to the Weird America is included in this great roundup!
Fall Books Preview: Now that it's September, here are the 40-plus books we're most looking forward to this season (Deborah Dundas, Toronto Star, 02/06/2022)
Welcome to the Weird America is included in this Fall Books Preview.

65 works of Canadian fiction to watch for in fall 2022 (CBC Books, 06/09/2022)
It's wonderful to see Welcome to the Weird America on the CBC list of fiction to watch for this fall!
THE MIRAMICHI READER FALL PREVIEW PART ONE (Nathaniel G. Moore, The Miramichi Reader, 11/07/2022)
A.G.'s collection of stories is part of the Miramichi Reader's fall preview.
About the Author
A.G. Pasquella's writing has appeared in various spots including McSweeney's, Wholphin, The Believer, Black Book, Broken Pencil and Utne Reader. A.G.'s story "I Was a Teenage Minotaur," originally published by Joyland, was included in Imaginarium 2013: The Best Canadian Speculative Writing. A.G. has published three novellas: Why Not a Spider Monkey Jesus? (which also appeared as a thirty-page excerpt in McSweeney's #11), NewTown and The This & the That. He is the co-editor (along with Terri Favro) of PAC'N HEAT: A Noir Homage to Ms. Pac-Man. A.G.'s three crime novels in the Jack Palace series – Yard Dog, Carve the Heart and Season of Smoke – were published by Dundurn Press. When he's not writing, A.G. makes music with the bands Miracle Beard and Lasergnu. A.G. was born and raised in Dallas, Texas, and now lives in Toronto, Ontario.

---
We Also Recommend