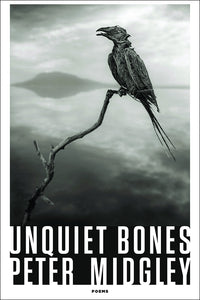 Unquiet Bones
Peter Midgley
October 2015
70 pages | ISBN 978-1-928088-07-3
**Shortlisted for the 2016 Robert Kroetsch City of Edmonton Book Prize**
Peter Midgley does not shy away from politics, whether documenting efforts to uproot colonialism or the number of murdered Aboriginal women in Canada. In these dramatic and uncompromising poems, Midgley roves between Canada and Africa, stopping briefly to consider struggles for democracy in places as diverse as Hong Kong and Ancient Rome.  With lines that look for justice and record our search for human dignity, Midgley shows us "bodies silent as crocodiles on the kavango" and how "freedom is a lovely word, thin as a thousand paper lights."  But still the poet finds time to dream beside a campfire, to caress a beloved or contemplate the "lilied stem of evening."
Working in a variety of languages and referencing traditional African poem forms, Midgley expands our ideas of poetry and language in this book. These are physical poems, poems where you can hear the shells exploding and feel the sea ice closing in on you, poems that linger long in your memory.
Advance Praise
"Unquiet Bones is delirious with language: I see several African languages, Afrikaans, Latin, French. It honours all of them and reminds the reader of the physicality, substantiality of words. They are just beautiful to hold in the mouth. Yes they perform other functions, but just consider their heft and sinuousness." – Tim Lilburn

"In Midgley's poems, the 'I' seeks not to dominate a vista but to find openings into human dwelling in all its variousness, its presence and its fear, its absence and its love. The result is a wandering that is truly Spinozan – his lines, languages, encounters, multiply in avid interstices, in rhythms that enact and multiply meanings and resonances. The poems are living bodies both affected by and affecting others in the world, and they both perturb and gladden our reading." – Erín Moure
Reviews
Introverted and Extroverted Selves (Shane Neilson, Canadian Literature 232, Spring 2017)
"Peter Midgley is an emotional extrovert, a poet whose speaker is more interested in witnessing the drama outside the self."
Interviews
Poets Resist: Peter Midgley (All Lit Up, 04/07/2017)
"As a poet, I am in the middle of things, looking outward in all directions. Looking in from all angles. I write about and from within, looking in and out. I do not write against or in opposition. Poetry tears apart and poetry rebuilds. It questions and interrogates. If that is "resistance," then that is what it means to me."
Excerpt
About the Author
Peter Midgley is a poet and storyteller. He has performed in several countries around the world and has published three children's books, one of which, Thuli's Mattress, won the International Board on Books for Young People Award for Literacy Promotion and has been translated into twenty-seven languages. He is also the author of two plays and a bilingual volume of poems, perhaps i should / miskien moet ek, which appeared with Kalamalka Press in 2010. A second collection of poetry, Unquiet Bones, will be published by Wolsak & Wynn in 2015.
Other Titles by this Author

---
We Also Recommend