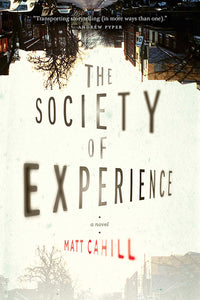 The Society of Experience
Matt Cahill
October 2015
248 pages | ISBN 978-1-928088-04-2
**Third Place – Alcuin Society Award for Excellence in Book Design – Prose Fiction**
"I'm in two places: here, but there still" – so begins this captivating literary thriller.
When his father – a distinguished writer – unexpectedly passes away, Derrick van der Lem's insulated world implodes, leaving it a much stranger and crueller place than the one he knew. In the midst of his downward spiral, the mysterious Society of Experience asks him to take part in a baffling science experiment involving time travel that promises to change his life and pull him out of his rut.
When the experiment begins to untangle, Derrick finds himself out of his depth and in the middle of a nightmare, with only the company of a mysterious woman to steer him from chaos to heartbreak. Meanwhile, who are the Society, and what are their true intentions for Derrick? Is time travel real, or is it yet another contrivance the Society has invented? Part Philip K. Dick, part postmodern mystery, The Society of Experience is an inventive, fast-paced story of a man's journey through streets, alleyways and deserted buildings in search of a better tomorrow.
Buy the eBook
You can find it at All Lit Up!
Advance Praise
"A swirling confident debut, supported by crisp prose without misstep, and containing many more original ideas than books three times its slender size. Sly and slippery fun – I thought of Ben Marcus and J. G. Ballard...writers who say don't worry I know what I'm doing as they break from the pack."
TONY BURGESS, author of Pontypool Changes Everything and The n-Body Problem
"Matt Cahill's debut novel, The Society of Experience, explores the dangers of magical thinking in a most entertaining way. Both thoughtful and humorous, twisty and fun, this is transporting storytelling (in more ways than one)."
ANDREW PYPER, author of The Demonologist and The Damned
Articles
"The Society of Experience by Matt Cahill" (Consumed by Ink, 01/20/2016)
"My first thought after finishing the book was crazy (a good crazy). Just go read it and see for yourself."
"A State of Mind" (Robert J. Wiersema, Quill & Quire, 01/12/2015)
"His debut novel, The Society of Experience, is a stylish amalgam of science fiction and domestic realism, inspired in part by Eastern European science fiction and the Theosophical Society, an organization founded in the late 1800s to explore connections between divinity and humanity."
"Brilliant New Books to Read this Fall" (Marlene Wallace, Viva Prime, 17/11/2015)
"The Society of Experience is actually a secret organization dealing in scientific experiments and 'hypotheticals.' After the main character's father dies, he takes part in a society experiment involving time travel. Doing so takes him on a rollercoaster ride of emotions and experiences."
"First Fiction Fridays: The Society of Experience by Matt Cahill" (All Lit Up, 06/11/2015)
"Matt Cahill draws a dark but richly nuanced world where redemption seems questionable and the hero undeserving, but we can't quite help hoping it will happen anyway."
"Before launch, first novel draws praise" (Susan Gamble, Brantford Expositor, 08/10/2015)
"But MATT CAHILL, who grew up in rural Brant County, is still reeling a bit from the sonic takeoff of his debut book, which made Harper's Bazaar's list of '15 Best Books of Fall 2015.'"
"Fall 2015 Books to Look Forward To" (LifeMix.today, 21/09/2015)
"The Society of Experience is a secret organization that deals in scientific what-ifs and experiments. After the protagonist's father passes away, he participates in a time-travel experiment with the society that takes him on rollercoaster ride of experience and emotion."
"#TheLIST: 15 Books For Fall" (Allison Taylor, Harper's Bazaar, 17/09/2015)
"The Society of Experience is a psychological journey through the abandoned corridors of the human spirit."
"The Word on the Street Interview Series: Matt Cahill" (Grace O'Connell, Open Book Toronto, 10/09/2015)
Interviews
"12 or 20 (second series) questions with Matt Cahill" (rob mclennan, rob mclennan's blog, 06/11/2015)
"My philosophy is 'read widely' as opposed to being 'well-read'. If all we do is read The Classics - when we don't really play a part in how that mantle is bestowed - then that brings us closer to monoculture, which is terrible. I read what interests me, even if it's flawed. Also, more and more I ask myself where my blindspots are. For example, am I reading too many books by white men? Am I only getting North American perspectives?"
"Emerging Canadian Writers: Seven Interviews, Part One" (Lisa de Nikolits, All Lit Up, 04/11/2015)
In response to the question "What gave you the idea for this book": "I imagined a woman sitting in a room, staring at a time machine and dealing with the tragedy of never truly spending "time" with the person on the other side of that contraption. As I fleshed it out, I also thought it would be fun/liberating to incorporate different textual perspectives. The challenge was to have it flow organically rather than be read as a series of dispatches. It needed to be a story and not feel like a gimmick."
"The Proust Questionnaire, with Matt Cahill" (Grace O'Connell, Open Book Toronto, 23/10/2015)
"Matt Cahill's debut novel The Society of Experience...got a strong start before it was even published, being listed by Harper's Bazaar as a most anticipated book and garnering praise from the likes of Tony Burgess and Andrew Pyper."
Excerpt
About the Author
Matt Cahill's debut novel, the literary thriller The Society of Experience, was picked as one of the top must-reads by Harper's Bazaar magazine. He has contributed essays to Ryeberg and Torontoist, and his short stories have appeared with Found Press and The Rusty Toque. Raised in Southern Ontario and Alberta, he lives and works in downtown Toronto, where he has a private practice as a psychotherapist. Check out his website at http://www.mattcahill.ca.
Other Books by This Author
Radioland (2022)
---
We Also Recommend