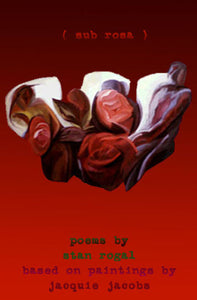 ( sub rosa )
Stan Rogal
January 2003
128 pages | ISBN 978-0-919897-87-8
Stan Rogal starts (sub rosa), his seventh collection of poetry, by defining the rose as a highly complex symbol. The book itself is also highly complex and often symbolic. Structured around the vibrantly sensuous paintings of Jacquie Jacobs, (sub rosa)'s poems are infused with pop culture, mythology and irreverence. At times mocking and dark, but always sexy, the poems explore what the poet draws from the paintings. Expect classical references beside pop song lyrics, dark insights beside laughter and read for the sheer exuberance of Rogal's love of wordplay.
Reviews
Review (Harold Rhenisch, ARC, 12/1/2004)
"Rogal [clutches] nine paintings by Jacquie Jacobs, off of which he riffs into a language of minimalist music and the sensuality of framentation. (sub rosa) turns a kaleidoscope filled with erotic dreams, rose petals, atomic mushrooms, salamanders and the bric-a-brac of a modern mind overrun with stuff."
Review (Jeffery Donaldson, University of Toronto Quarterly 74, 11/1/2004)
"Rogal uses an eclectic syntax, a fresh, sharp-edged diction with biblical and popular-cultural cross references."
Review (Tanis MacDonald, The Malahat Review, 9/1/2004)
"Though its lush presentation seems to propose a grave discussion about sexual profundity, <sub rose> is occasionally rude and often hilarious, making the discovery of its frank and funny sensibilities all the more fun."
About the Author
Born in Vancouver, Stan Rogal has lived in Toronto for the past twelve years. Geometry of the Odd is Stan's fourth book of poetry, his second with Wolsak and Wynn. As well as writing poetry and fiction, Rogal is a playwright/actor/director and co-artistic director of Bald Ego Theatre. He is also into his ninth year as the coordinator of the popular Idler Pub Reading Series. How he actually supports himself financially has puzzled friends and relatives for some time now. As Gwyneth Paltrow states in Shakespeare in Love: it's a mystery.
Other Titles by this Author

Fabulous Freaks (2005)
---
We Also Recommend