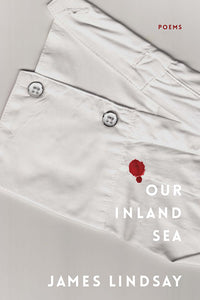 Our Inland Sea
James Lindsay
October 2015
80 pages | ISBN 978-1-928088-06-6
Step Right Up to Our Inland Sea!
• Watch in amazement as a funnel cloud picks a fight with a Ferris wheel!
• Learn the secrets of wrangling yeti and shooting sasquatch!
• Experience thrills and chills as you visit the ghost towns of Ontario and China!
• Marvel at the Coney Island Aquarium and the reclaimed Gold Rush Hotel!

With fantastical imagery and attention to detail, these poems pull you into a funhouse world where a prime minister walks you to school and Gordon Lish takes over a poem. You will encounter animals in uniform and realize the Snowpocalypse is not what you think. Read on, and discover all these astonishing phenomena…and many more!
Advance Praise
"James Lindsay can do everything. Our Inland Sea has surreal asides, belly laughs, and dismay aplenty, but its default mode is the tension of the infinitely possible – he can take a line anywhere he wishes, and so his poems become ingenious, fantastical worlds."
Jacob McArthur Mooney, author of The New Layman's Almanac and Folk
Reviews
"Three Debuts and a Prequel" (Emily McGiffin, Canadian Literature, 01/04/2017)
"James Lindsay's debut collection, Our Inland Sea, is a thoughtful and intelligent work that lends careful attention both to the precision of images and to the mechanics of verse. These poems are tight, fluid, and artfully sculpted, the line breaks precise and weighty; clearly, Lindsay has a deep respect for both language and the aesthetics of verse."
"Poetry: explore your soul, the natural world and Bonnie & Clyde" (Barbara Carey, Toronto Star, 02/14/2016)
"There's no such thing as mundane reality in this eclectic, weirdly entertaining collection."
"The Surreal Quotidian: James Lindsay and Chris Chambers 2015 Buckrider Titles" (Catherine Owen, Marrow Review, 01/11/2015)
"Lindsay, despite his range of allusions and at times Stevensian titles … presents with a greater seriousness of subject matter and thus a less lunging panoply of forms, though variety is there in rampant anaphora…, taut line breaks, and sectional poems versus sock-it-to-ya lyrics."
Excerpt
About the Author
James Lindsay has been a bookseller for more than a decade. He is also co-owner of Pleasence Records in Toronto, a record label specializing in post-punk, odd-pop and avant-garde sound pieces.
Other Titles by this Author
Double Self-Portrait (2020)
---
We Also Recommend