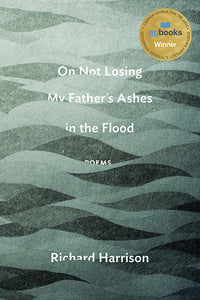 On Not Losing My Father's Ashes in the Flood
Richard Harrison
October 2016
84 pages | ISBN 978-1-928088-22-6
*Winner of the Governor General's Literary Award for Poetry*
*Winner of the Stephan G. Stephansson Award for Poetry*
*Winner of the 3rd Prize for Poetry in the 2017 Alcuin Society's Book Design Awards*
*Shortlisted for the City of Calgary 2016 W.O. Mitchell Book Prize*
*Finalist for the Poetry category of the High Plains Book Awards*
The great Alberta flood of 2013 slides through Richard Harrison's latest collection, its rising waters pulling his books of poetry off their shelves, washing the ink from letters kept in boxes in the basement and threatening to carry off his father's ashes. On these waters float Harrison's mourning for his father, who suffered a form of dementia later in life but never forgot the poems he'd memorized as a young man. Alongside these, the waters also carry Harrison's love of comic books, his struggles with haiku and his willingness to stay in the game, to "try again." Combining elements of memoir, elegy, lyrical essay and personal correspondence, On Not Losing My Father's Ashes in the Flood is a generous and enchanting book, one that leaves you, like the poet, thinking about the way "characters in a novel can escape anything / except their story."
Reviews
Wilted Vegetables and Hope (MLA Chernoff, Canadian Literature, 11/10/2018)
"The focus of the text, then, is not so much on the values of patriarchy or Oedipality in themselves, but rather our memories and impressions of these steadfast ideologies in the wake of their absences. Harrison deconstructs the labour of loss, exploding the question of who mourns whom, while interrogating masculinities. The poet is thus critical and elegiac in the same breath, carving out for readers a "paradise / on the other side of criticism" – a site of ambiguous splendour that locates joy in the reading and rereading of one's own life."

Power of the Poets (Phil R., Calgary Public Library, 11/04/2018)
"This testament to poetry's connective power brought the Governor General's Award for Poetry to Calgary last year."
Review of On Not Losing My Father's Ashes in the Flood (Jannie Edwards, Freefall, Winter 2018)
"These lines of poetry, these repetitions are not echoes, not cover songs, but rather in the struggle of tensions and opposites, in the pull between the discontent of winter and the glory of summer, poetry becomes a mirror, becomes a map, becomes the psyche's barometer, a way into understanding indentity and intimacy."
Well-crafted poems highlight book (Danell Jones, Billings Gazette, 14/07/2017)
"Harrison's poems will sing to you long after you have closed this poignant book."

Bookshelf: On Not Losing My Father's Ashes in the Flood (Alex Rettie, Alberta Reviews, 01/07/2017)
"The poems are not retrospective so much as they are what we might call intraspective, examining themselves and each other for signs of permanence at the same time as they acknowledge their impermanence."
"Review: On Not Losing My Father's Ashes in the Flood" (Sharon Berg, League of Canadian Poets, 03/09/2017)
"The beauty in this book, what brings it close to being a gem, is the writer's ability to craft a vision of his inner struggle through personal dilemma that jointly allows the reader to address their own internal inquiry. That vulnerability, that openness, is what makes the poems in this volume ring."
"Today's Book of Poetry" (Michael Dennis, Today's Book of Poetry, 02/09/2017)
"These gentle and compassionate poems are made of interlocking puzzle pieces so meticulously set into place and rendered that the seams become invisible."
"Two from Buckrider 2016" (Catherine Owen, Marrow Reviews, 12/02/2016)
"Harrison has certainly delivered true infant gleamings of awe and sorrow in what is undoubtedly among the most searing poetry collections of 2016."
Interviews
RICHARD HARRISON AND HIS FATHER'S ASHES (Radio Cometa Rossa, 08/04/2020)
"His collection of poems [...] deals with the meaning of poetry, and all the possible explanations of this meaning, gave birth to a constant inner debate."

Two interviews (!) with Richard Harrison (Niall Munro, Oxford Brookes Poetry Centre Blog, 06/06/2018)
"[Words are made new] for me in "This Poem is Alive Because it is Unfinished" where the women taking care of my father in his last weeks say of him, "He's our favourite," and I realize that for me, in that moment, that sentence means exactly the same when its true as when it's not. If it's true, it's a lovely and comforting thing for them to say to me – and I believe it; Dad was a charming man. If it's false, it's a lovely and comforting thing for them to say to me – and I believe it; they want to offer me something to hold onto in my imminent loss. And so whether the line is true or not, it does the same work; in fact, it's poetry, pure poetry in the sense we're talking about here: it actually does more if it is equally true or false, which is as close as I can get to separating those words from their history (as tied to their truth) and have them mean something new."
7 books and poems that inspire Governor General's Literary Award-winning poet Richard Harrison (Ryan B. Patrick, CBC Books, 17/04/2018)
"McElligot's Pool was one of the first that I learned to read myself, partly because I liked the art [...] and partly because it's a story about a list of things, and I always liked those. Later, I saw that this list in particular, answering adult 'realism' with a boy's fantasy of a fishing line that travels to the ends of the ocean, catching creatures more bizarre and wonderful with the turn of every page, is the anthem of the artist, of creativity and — to quote a psychotherapist friend of mine — a map of the unconscious."
Winter is the Time of the Story (The Walrus, 15/02/2018)
"Clearly part of my motivation to write poetry is just to write poetry—I love doing that. The poetic impulse for the book was a series of poems about different types of poems. My love of poetry stems greatly from my father's love of it. Whenever we would talk about things that were emotional, the poems would come out. The apocalyptic visions of Yeats, of the pastoral Dylan Thomas—that was the language that he would reach for to describe the most significant things in his life. And I carried that with me."
The Chat with Governor General's Award for Poetry Winner Richard Harrison (Trevor Corkum, 49th Shelf, 08/11/2017)
"Dad suffered from vascular dementia in his last decade, but in the slow fade that we shared, a lot of truth came out, and so a lot of poetry."
2017 Governor General poetry award winner Richard Harrison (The Homestretch, 01/11/2017)
Richard discusses his collection of poetry, On Not Losing My Father's Ashes in the Flood.
Why Richard Harrison's highest and lowest points were right beside each other
CBC Books, Richard Harrison, 01/11/2017
"The lowest points come from outside the writing: my father's and my father-in-law's deaths a year apart. And the flood itself. But to be fair to the puzzle at the core of art, those low and terrible times are times that forced the poetry to grow, to come up with answers I would never have otherwise, in words to what was wordlessly and unstoppably there. So the highest and lowest points were right beside each other."
Articles
Compelling Calgarians: Richard Harrison (Rita Mingo, The Calgary Herald, 02/01/2018)
"When the attention comes . . . to a very private spot of my life . . . it becomes a shared public happiness. It means so many things on so many levels."
It is to that bedside I go by Richard Harrison (Richard Harrison, CBC Books, 01/12/2017)
"And when you ask me about chaos and control, it is to that bedside that I go when I think about these words for the great powers in human life in both the large sense and the small. They go by many names: the predictable and the unpredictable, the known and the unknown, the familiar and the strange, those that answer human will, and those that no quantity of will or desire affects. "
Richard Harrison's On Not Losing My Father's Ashes in the Flood wins Governor General's Literary Award for Poetry (Eric Volmers, The Calgary Herald, 02/11/2017)
"He was teaching me his whole life," says Harrison. "And, with his dying, he was teaching me the last thing I needed to know — which was that poetry or art was our answer to death."
"Calgary Bestsellers: Non-fiction" (Calgary Herald, 26/11/2016)
On Not Losing My Father's Ashes in the Flood was #1 on the Calgary non-fiction bestseller list.
Extras
Richard Harrison and Niall Munro discuss Richard's book
Excerpt
Click here to read the first few poems from On Not Losing My Father's Ashes in the Flood
Listen below to hear Richard reading two poems from his collection:
About the Author
Richard Harrison's eight books include the Governor General's Award–finalist Big Breath of a Wish, and Hero of the Play, the first book of poetry launched at the Hockey Hall of Fame. He teaches English and Creative Writing at Calgary's Mount Royal University, a position he took up after being the Distinguished Writer-in-Residence at the University of Calgary in 1995. His work has been published, broadcast and displayed around the world, and his poems have been translated into French, Spanish, Portuguese and Arabic. In On Not Losing My Father's Ashes in the Flood, Richard reflects on his father's death, the Alberta Flood and what poetry offers a life lived around it.
Other Titles by this Author
25: Hockey Poems, New & Revised (2019)

Secret Identity Reader: Essays on Sex, Death and the Superhero (2010)

Now is the Winter: Thinking about Hockey (2009)
Worthy of His Fall (2005)
Hero of the Play: 10th Anniversary Edition (2004)
Big Breath of a Wish (1998)
---
We Also Recommend