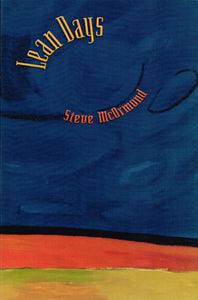 Lean Days
Steve McOrmond
April 2004
88 pages | ISBN 978-0-919897-94-6
Steve McOrmond captures what it's like to love and leave your hometown in Lean Days, his debut collection of poetry. From remembering " Saturday night,/ half-tons cruise / Granville Street Alice gives them the finger/ and you both think you'll die" to receiving a letter from the friend who stayed home, McOrmond's finely crafted poems awake the longing that everyone feels for the town that will never be home again. But the poet doesn't stop there. Having left his home he encounters a different sort of love where "it took a tall drunk guy in a blue dress to tell me I had great lips. It took you to show me who they / were made for" and discovers new kinds of pain as the city wraps around him, full of the sound of Glenn Gould playing "Adagissimo. The tempo of stars." With honesty, a maritime sensibility, and a subtle way with images, Steve McOrmond's Lean Days invites readers into a past and a present that will resonate deeply with them.
Excerpt
"Patricia, as I stand"

Patricia, as I stand in line behind the hearse,
is nine years old and hops from the car
in a rush of blue satin. She is suddenly
pressed into me - I collapse
in the squeeze of her arms
and huge eyes - sad gift among monuments.

Patricia, her sister in the coffin and no tears,
holds me, face in my belly, and whispers:
You told us stories, Amanda liked your stories.
I hold her tighter - moments
before she leaves me and
Amanda goes to the ground.
Reviews
Review (Eric Barstad, PoetryReviews.ca, 2/21/2006)
"Steve McOrmond's first poetry collection, Lean Days (Wolsak and Wynn 2004), is an engrossing read and one I enjoyed very much. McOrmond's poetry is familiar, lyrical, and extremely visual; the imagery draws the reader in and captivates the imagination."
Review (Alex Boyd, ARC, 12/1/2004)
"This is strong work by a clearly dedicated poet, and a first collection from a voice to watch."
Lean this way (Alex Pope, The Brunswickan, 9/15/2004)
"A profound sense of awareness hovers behind the words of each individual poem like the ghosts and spirits that McOrmond often mentions, and one can't help but appreciate the poet's complete ordinariness."
Two new poets of power (George Elliott Clarke, Halifax Herald, 9/1/2004)
"The lyrics exude a 'common touch,' but one informed by much reflection, and, most importantly, by carefully and frankly observed experience."
Candid voices behind mask: Debut collections delve into the personal past with sharp eye (Barbara Carey, Toronto Star, 7/11/2004)
"There's both small-town genuineness and urban polish in his work."
About the Author
Steve McOrmond's poetry has appeared in Canadian literary magazines including Event, The Fiddlehead, Geist, Grain, Malahat Review, The New Quarterly and Prairie Fire, and online at Maisonneuve, Jacket (Australia) and nthposition (UK). His work also appears in the anthology Breathing Fire 2: Canada's New Poets (Nightwood 2004). His first book of poetry Lean Days was short-listed for the Gerald Lampert Memorial Award. In 2006, he received a "Highly Commended" award in the Petra Kenney International Poetry Contest. He lives in Toronto.
Other Titles by this Author

Primer on the Hereafter (2006)
---
We Also Recommend