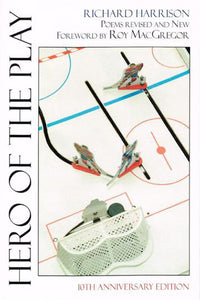 Hero of the Play: 10th Anniversary Edition
Richard Harrison
January 2004
96 pages | ISBN 978-0-919897-95-3
Sixteen years ago, Richard Harrison thrilled poetry and hockey lovers with a collection of poetry devoted to the great Canadian game. This beloved collection has been reissued with a new selection of poems titled "The Hero in Overtime," an essay by the author on ten years of living with hockey poetry, and a foreword by Roy MacGregor.

"I was mesmerized by Harrison's writing – his observation that Mark Messier's stare 'weighs 200 pounds'; his descriptions of Don Cherry; his astonishing, yet accurate, comparison of hockey to Sumo wrestling – and I am delighted that, 10 years on, he is back with a new issue of Hero of the Play with all kinds of new writing to fascinate and intrigue and, most importantly, inspire those of us who profoundly believe it is impossible to know this country without knowing its game." – Excerpt from Foreword
Reviews
Double Overtime (Adrienne Mercer, Monday Magazine, 6/10/2004).
"Harrison, who has written five books of poetry and is inspired by the work of Michael Ondeetje, makes a strong case for hockey as Canadian creation myth, while capturing both the poetry and the culture of the game."
Celebrating hockey's great deeds (Harry Vandervlist, Fast Forward, 3/11/2004).
"The book's enduring popularity testifies to the appeal of its subject, the tenacious faith in poetry shown by its publisher, Wolsak and Wynn, and to the artful but accessible qualities of what Harrison simply calls the 'hockey poem.'"
Excerpt
"Tie Game"
– for the team

A good game repairs the boy inside me – I mean a good
game as spoken of in the language of men. Everyone
knows – win or lose – you did what was asked, the guy
with the puck counted on you in position whether he
passed or not, and the one that rang off the post was still
hailed as a good shot in words heard round the rink;
when the better shooter says to you, Take it! This is
impersonal love, this movement of men on the ice,
thinking, talking all the time, playing the angles and each
other, the love the mind has for the body, the key for the
lock, the one men express for machines they've owned
that always started in the cold. Today, because of how
we felt, we let the game end in a tie. You don't see that
every day, but one of us was leaving town next week,
and we couldn't let him go with that good game dying
in victory or defeat.
About the Author
Richard Harrison's eight books include the Governor General's Award–finalist Big Breath of a Wish, and Hero of the Play, the first book of poetry launched at the Hockey Hall of Fame. He teaches English and Creative Writing at Calgary's Mount Royal University, a position he took up after being the Distinguished Writer-in-Residence at the University of Calgary in 1995. His work has been published, broadcast and displayed around the world, and his poems have been translated into French, Spanish, Portuguese and Arabic. In On Not Losing My Father's Ashes in the Flood, Richard reflects on his father's death, the Alberta Flood and what poetry offers a life lived around it.
Other Titles by this Author

25: Hockey Poems, New & Revised (2019)
On Not Losing My Father's Ashes in the Flood (2016)

Secret Identity Reader: Essays on Sex, Death and the Superhero (2010)
Now is the Winter: Thinking about Hockey (2009)
Worthy of His Fall (2005)
Big Breath of a Wish (1998)
---
We Also Recommend