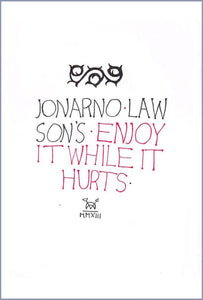 Enjoy It While It Hurts
JonArno Lawson
October 2013
118 pages | ISBN 978-1-894987-77-6
**Winner of the Lion and the Unicorn Award for Excellence in North American Poetry**
Enjoy It While It Hurts is an edifying miscellany of quarrelsome quips, holiday oddities, benevolent advice, curious thoughts and comically apocalyptic melancholia. This delightful collection of light verse and nonsense poetry written and illustrated by the award-winning, multitalented JonArno Lawson keeps alive the traditions of Edward Gorey, Shel Silverstein, and Hilaire Belloc. Erudite, witty and wholly original, Lawson's wordplay is serious business.
Reviews
Oh, Humanity (Marilyn Irwin, ARC Poetry Magazine, 11/11/2014)
"Enjoy it While it Hurts is a delight and a great introduction to Lawson's talent and breadth of style. Not quite comedy and not quite tragedy but somewhere in between, this book reveals his unique relationship with life and all the people in it with our awesome, heart-breaking, perplexing ways. Oh, humanity."
You can put anything in a book (Sarah Henstra, Sarah Henstra, 29/05/2014)
"Lawson's reading was one of the most inspiring and educational moments of the festival for me, because it shook up my notions of how a book has to look if it wants to see print nowadays."
Wolsak and Wynn and ECW Press's Fall Offerings (Tracy Kyncl, Town Crier, 28/10/2013)
"The night's host Paul Vermeersch described Lawson as the Shel Silverstein of the new generation... I was delighted to find that Lawson is continuing the tradition of illustrated poetry that is as philosophical as it is whimsical."
Interviews
JonArno Lawson - Enjoy It While It Hurts (an interview) (The Toronto Quarterly, 17/02/2014)
"[Enjoy It While It Hurts is] a miscellany – more like a collection of little books living (and hopefully working) together than anything else. I hope at least one of the messages is – don't forget to play. Words and ideas are fun to play with – and the fun is open to everyone."
Videos
JonArno Lawson reads a selection of poems from his new poetry collection, Enjoy It While It Hurts, at Hamilton's Workers Arts & Heritage Centre.
Watch JonArno Lawson give a fascinating talk at UBC, complete with readings of his works, about his experiences writing poetry for young audiences and older readers, courtesy of the Irving K. Barber Learning Centre and the School of Library, Archival, and Information Studies.
About the Author
JonArno Lawson is the award-winning author of numerous books of poetry for children and adults, including Black Stars in a White Night Sky, A Voweller's Bestiary and Think Again. A two-time winner of the Lion and the Unicorn Award for Excellence in North American Children's Poetry, he lives in Toronto with his wife and children.
Other Titles by this Author

---
We Also Recommend