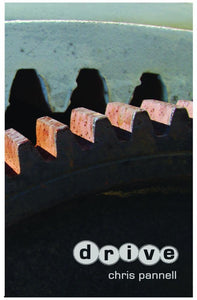 Drive
Chris Pannell
April 2009
101 pages | ISBN 978-1-894987-33-2
**Winner of the Acorn-Plantos Award**
**Winner of the Hamilton Literary Award for Poetry**

In sure and tender poetry, Chris Pannell looks into the rear-view mirror of his bus – and his life – to celebrate the humanity of his passengers, and himself. From speaking with kidney dialysis patients, to driving sleeping teenagers home, Pannell's poems engage the reader with his empathic view of our world in elegantly constructed verse.
Reviews
Review (Marc Thackray, Journal of Canadian Poetry vol. 26, 1/8/2011)
"In these poems, Pannell as driver witnesses the struggles of his passenger's quiet lives and tries to adjust the mechanisms that leave them vulnerable, dislocated from company, desperate and alone…The youthful, aged and ill travellers need their poet, and Pannell takes on this role."
Arts magazine a visual, word-worthy treat (Jeff Mahoney, The Hamilton Spectator, 7/15/2009)
"There are beautifully rendered stories of the passengers he drives, often interwoven with other observations, some of the very casual, minute and fleeting but leading in their meandering way to thoughts on larger themes."
Lit Review - Drive by Chris Pannell (Jessica Rose, H Magazine, 1/5/2009)
"Readers can't help but fall in love with the people Pannell observes along his various routes."
Excerpt
Read a pdf excerpt of the collection here.
About the Author
Chris Pannell's A Nervous City (2013) won the Kerry Schooley Book Award from the Hamilton Arts Council. In 2010, his book Drive (2009) won the Acorn-Plantos Award for Peoples Poetry and the Hamilton Literary Award for Poetry. From 1993 to 2005 he ran the new writing workshop and published two anthologies of work by that group. He is a former board member of the gritLIT Literary Festival and a former DARTS bus driver. He hosts and helps organize the monthly Hamilton reading series Lit Live. His latest book of poetry – Love, Despite the Ache – won the 2017 Literary Award for Poetry from the Hamilton Arts Council.
Other Titles by this Author
Adventurize Your Summer! (2023)
Love, Despite the Ache (2016)

A Nervous City (2013)
---
We Also Recommend