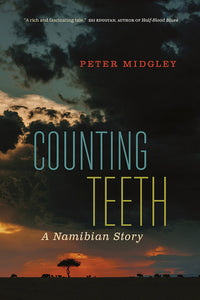 Counting Teeth: A Namibian Story
Peter Midgley
September 2014
272 pages | ISBN 978-1-894987-89-9
With his nineteen-year-old daughter, a collection of maps and the help of an opinionated GPS, Peter Midgley sets out across Namibia. Visiting small-town museums and gravesites, crossing border checkpoints and changing tires, they travel its length and breadth. Stories about Portuguese explorers and the first genocide of the twentieth century collect on the back seat of their car alongside the author's earliest childhood memories of growing up in the country. By the end of the journey, the stories piece together into an understanding of Namibia's present and make it possible for Midgley to share his love for this complicated, vibrant place with his daughter.

Advance Praise
"A rich and fascinating tale." – Esi Edugyan, author of Half-Blood Blues
"Impeccably researched and written with palpable affection, Peter Midgley's Counting Teeth: A Namibian Story reveals how the history of a nation can also be the narrative of a human heart." – Marcello di Cintio, author of Walls: Travels Along the Barricades

Articles
"Read This, Then That" (Tan Light, All Lit Up, 20/01/2015)
"Namibia's past is fraught with conflict, and Midgley explores this legacy with his daughter as they travel the byways of this southern African country. The past and future have equal hold of Namibia; Old German buildings butt up against new glass towers in the cities, and remnants of Apartheid occasionally catch the travellers by surprise."
"Book launch set for author of remarkable travel memoir" (Mark Weber, Red Deer Express, 22/10/2014)
"When it comes to effectively reconstructing scenes that took place in the past, Midgley really shines…. As the story – or rather stories unfold – the reader is introduced to so much; Midgley said capturing all the richness of a place – any place – begins with taking notice of our surroundings more carefully."
"Father-daughter trek to Namibia fuels book on finding family roots" (Michael Hingston, Edmonton Journal, 17/10/2014)
"That small talk became the spark that eventually led to Midgley's new travel memoir Counting Teeth (Wolsak & Wynn), which chronicles the two-month trip he and his daughter Sinead took to Namibia in 2011. The pair wanted to see what the southwest African country looked and felt like, two decades after winning its war for independence against South Africa."
"Armchair traveller: The best books to kick-start your wanderlust" (Mark Medley and Domini Clark, Globe and Mail, 10/10/2014)
"[Midgley] left the country of his birth when he was only 5. He returns years later with his 19-year-old daughter in tow, unlikely allies on a trip across the southern Africa country, from its western edge on the Atlantic Ocean, to Botswana on the east and Angola to the north."
Reviews
"Peter Midgley couldn't be silent" (Jody Smiling, Battle River Writing Centre Writing Room, 16/03/2015)
"Counting Teeth is as much a story of displacement and identity as it is a father-daughter love story…. Midgley uses a form of literary transference as town by town, grave by grave, skull by skull, he takes his daughter by the hand to bear witness with him, explaining where they are, why they are there, gently bringing all that is his past into their present."
Review (Greg Zinter, Battle River Writing Centre Writing Room, 16/03/2015)
"Peter Midgley [takes] the reader on a journey of Namibia that captures the imagination as he weaves a multilayered tapestry of proud and often defiant Namibians, war monuments, hidden cemeteries, dusty back roads and tire repair shops….  It is both an intimate exploration and a careful and well researched story of a meandering journey through 21st century Namibia as conducted by Midgley and Sinead, his wonderfully perception and insightful daughter, muse and travelling companion."
"Counting Teeth offers a fresh journey" (Alexis Kienlen, Daily Herald Tribune, 22/01/2015)
"His writing is lush, detailed and descriptive and it's obvious that he brings his strengths as a poet to the prose. It is impossible to read this book and not take away a feeling of the country, its landscape and its people."
"Book Talk – A Namibian Fascination" (Lisa de Nikolits, Goodreads, 29/09/2014)
"Counting Teeth is utterly fascinating and beautifully and lovingly told, and the people that Peter meets are so interesting in their own ways, and it makes you see how truly diverse this world of ours is."
Interviews
"Exploring implications of genocide" (Lisa Goudy, Moose Jaw Times Herald, 19/06/2015)
"As creative non-fiction, it deals with personal travels, but also takes a look at what the repatriation of the skulls means for people."
Videos
The Free Press News Cafe interviews Peter Midgley about Counting Teeth as part of their coverage of the Thin Air writers' festival.
Excerpt
Read the prologue and first chapter of Counting Teeth.
About the Author
Peter Midgley is a poet and storyteller. He has performed in several countries around the world and has published three children's books, one of which, Thuli's Mattress, won the International Board on Books for Young People Award for Literacy Promotion and has been translated into twenty-seven languages. He is also the author of two plays and a bilingual volume of poems, perhaps i should / miskien moet ek, which appeared with Kalamalka Press in 2010. A second collection of poetry, Unquiet Bones, will be published by Wolsak & Wynn in 2015.
Other Titles by this Author

Unquiet Bones (2015)
---
We Also Recommend