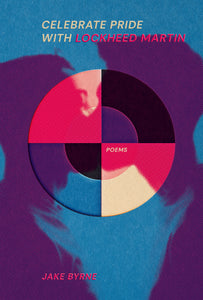 Celebrate Pride with Lockheed Martin
Jake Byrne
April 18, 2023
168 Pages | ISBN 978-1-989496-64-0
Celebrate Pride with Lockheed Martin is a swirl of energy, emotion and observation that takes the reader across the world on a Carmen Sandiego–like journey as well as deep into the complexities of modern queer life. Unabashedly sexual, and embracing a wide range of styles and tones, Byrne's poems move easily from lines of love and desire to sharp critiques of capitalism and war, and the co-opting of queer culture by them both. These are destabilizing poems, poems filled with glittering imagery and ideas and questions and truths, poems that share the poet's longing to live in a time that is not "as cruel and unjust / As every other time has been before it."
Advance Praise
"Celebrate Pride with Lockheed Martin offers the world for all it is: gruesome, ugly, horny, beautiful, aching, all at once. These poems ask you not to look away, to question everything, with a striking intellect and comedic flair. Jake Byrne goes down a complicated and thought-provoking rabbit hole of queerness, complicity, and complacency in a world of destruction and war."
– Daniel Zomparelli, author of Everything is Awful and You're a Terrible Person
"Celebrate Pride with Lockheed Martin is the illicit, explicit communiqué on hardcore gay sex and the military-industrial complex. It is packed with enthralling sexual encounters where force and yearning succumb so viscerally 'whether or not the next pleasure kills me.' It also questions the economic privileges enjoyed by most Canadians and Americans, whose nations have historically 'raped, massacred, enslaved.' As this collection attempts to unpack something hot and violent, it makes panting poetic. Each line wrestles with the way war continues to shape everything around us, from our wildest fantasies to the 'strange, passive construction' that North America has become." – Joshua Escobar, author of Bareback Nightfall

"How do you document atrocity when all there is is atrocity? How do you document the documentation of atrocity? How do you document the body as it moves in and out of the disgusting spectacles that capitalism and liberalism 24-7 bequeath us. Drug poems, sex poems, apathy, ignorance, looking away, looking too deeply. I don't know. Maybe there are only more questions, more poems, more ways of trying to understand how art can make our lives bearable, or at least a little less disgusting. Maybe there are only more ways that the military-industrial-aesthetic-liberal-guilt complex can suck us in and spit us out. Jake Byrne's poems are alive with these problems and questions as they chisel away at the form of the apocalypse. These are poems about survival. How we survive the unending violences that besiege us. How we survive the lies we tell ourselves when we don't know how to forget." – Daniel Borzutzky, author of Written After a Massacre in the Year 2018

Articles
April Most Anticipated LGBTQIA+ Books (01/04/2023)
It's lovely to see Jake Byrne's Celebrate Pride with Lockheed Martin make this most anticipated list.

What We're Reading: Staff Writers' Picks, Spring 2023 (Hamilton Review of Books, 06/03/2023)
Jake's book makes this great roundup.

46 Canadian poetry collections to watch for in spring 2023 (CBC Books, 03/03/2023)
It's great to see Jake on this list from CBC.
2023 Spring Preview: Fiction and Poetry (Attila Berki, Cassandra Drudi and Andrew Woodrow-Butcher, Quill & Quire, 11/01/2023)
Jake's poetry is included in this roundup of Spring fiction and poetry.
About the Author
Jake Byrne is a poet and writer based in Toronto, Canada. Their work has been published in journals and anthologies in North America. Their poem "Parallel Volumes" won CV2's Foster Poetry Prize for 2019, and their first two books of poetry are forthcoming in 2023 with Wolsak & Wynn and in 2024 with Brick Books, respectively. Find them @jakebyrnewrites.
---
We Also Recommend