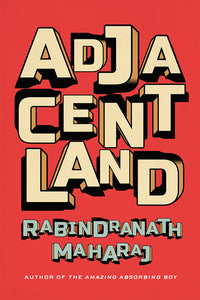 Adjacentland
Rabindranath Maharaj
May 2018
322 pages | ISBN 978-1-928088-56-1
**Long shortlisted for the 2019 ReLit Award for Novels**
**Shortlisted for the 2018 Foreword INDIES Award for Literary Fiction**
A man awakens with no memory in a strange, rundown institution. Struggling to make sense of his surroundings, he begins to piece together the story of his life from clues someone has left for him – drawings that line the walls of his room and fragments of letters hidden in the lining of his jacket. When he leaves his room to venture into the surrounding Compound, he encounters a group of oddly familiar people that urge him to undertake a desperate mission.
        In dreamlike prose, award-winning novelist Rabindranath Maharaj, weaves a story of fragments in which our narrator comes to believe he was once a comic book writer who warned against humanity's reliance on artificial intelligence. Meanwhile, his caretakers try to convince him he's insane. Soon he uncovers more clues that suggest memory is stored outside the body, and he learns of Adjacentland, a primitive land of outsiders where human imagination still survives. Together with a motley group of inmates from the Compound, he decides he must make his way there. In this brilliant, unsettling novel, Maharaj asks us, "What happens to the soul when all minds are tied together?"

Reviews
Tyrants and rebels on the bookshelves (Jade Colbert, The Globe and Mail, 13/11/2018)
"Some may find this a frustrating read because parts of the story just don't make sense, but then – without giving too much away –  that becomes the point. Creativity may sometimes be hard to discern from madness, but it is our imagination, along with our memories and stories, that liberates us from an automaton's existence."
REVIEW: Novel poses challenging questions about the soul and human mind (Ophelie Zalcmanis-Lai, This Magazine, 20/07/2018)
"In this scary futuristic landscape where imagination has been rendered obsolete by artificial intelligence, readers will enjoy the challenging questions Maharaj poses about the soul and human mind."
A Review of Rabindranath Maharaj's Adjacentland (Shazia Hafiz Ramji, Hamilton Review of Books, Spring 2018)
"Maharaj's masterful control of narration relays an awareness of the labored language and prevents a collapse into tropes associated with its formality; the protagonist is "aware that this formal account might be as stilted and whinging to you as it is to me," but the offhand intimacy of tone invites the reader to follow along, despite the glaring unreliability of the narrator. This is someone who is not only unsure of who to trust (including himself), but who also hallucinates and has imaginary friends — some of which are characters who bubble into an imaginative story within a story, then pop into a world that is entirely different from that of the previous chapter, or page."
Compound Interest (Sean Cranbury, Quill & Quire, 01/05/2018)
"[Rabindranath Maharaj] is a talented and at times poetic writer whose referential style is rooted in psychological realism but gleefully borrows from a range of forms. […] His gift for creating sharp, poignant portraits is a useful counterpoint to the emotional pall that hangs over the characters."
Adjacentland by Rabindranath Maharaj: A Navigation Guide (Naomi, Consumed by Ink, 04/04/2018)
"If you like a challenge, a head-scratcher, something to boggle your mind then I highly recommend giving this book a try.... One thing is for sure, Rabindranath Maharaj has one heck of an imagination. And I never had any idea of what was going to happen next. If nothing else, this book is worth reading just to admire it."
Interviews
Ontario's Vibrant Voices: Talking to The Word on the Street Authors Lezlie Lowe, Rabindranath Maharaj, & Merilyn Simonds (Open Book, 20/09/2018)
"I don't typically like crowds but WOTS is different. I like the frenetic energy as people try to take in as much as possible, moving to and from tents hosting writers completely dissimilar from each other."
Rabindranath Maharaj on writing about the fleeting nature of memory (Ryan B. Patrick, CBC Books, 31/05/2018)
"I'm not sure if the idea for the book had been buried deep inside me for a while now. Because in Trinidad as a boy I would visit a place that we would now call an asylum, but the local name was the madhouse. My uncle was the chief psychiatrist there and I would listen to him talk about some of his patients. You know he wouldn't name names but what I took away from him was that while we all invest so much in memory, it is still such a fragile thing."
Rabindranath Maharaj and His New Novel Exploring "The Oldest Question in the World" (17/05/2018)
"The idea for the book first arose during my visits to Trinidad where I observed the changes in my father who was afflicted with Alzheimer. I began to consider how much someone can be emptied by forgetfulness and how they struggle to fill the gaps with spurts of inventiveness. We are all defined by our memories, yet it is such a fragile thing."
Articles
Our Top Event Picks For The Vancouver Writer's Fest – Oct. 15-21 (Boomer in Vancouver, 20/09/2018)
"The lineup at this event features Rawi Hage (Beirut Hellfire Society), Alix Hawley (My Name Is a Knife), Emma Hooper (Our Homesick Songs), Rabindranath Maharai (Adjacentland), Melanie Raabe (The Stranger Upstairs), and Sofka Zinovieff (Putney)."
100 writers in Canada you need to know now (CBC Books, 16/07/2018)
AN EXCERPT FROM ADJACENTLAND BY RABINDRANATH MAHARAJ (The Rusty Toque, 12/05/2018)
Read the first chapter of Adjacentland.
6 Canadian books we can't wait to read in May (CBC Books, 01/05/2018)
Spring Preview 2018: Fiction (Steven W. Beattie, Quill & Quire, 17/01/2018)
Rabindranath Maharaj won the Trillium Book Award for his previous novel, 2010's The Amazing Absorbing Boy. Maharaj is back this season with Adjacentland (Wolsak & Wynn, May), about an amnesiac who awakes in a strange facility known only as the Compound. As the administrators who run the Compound try to convince him he's insane, the man comes to believe he's a comic-book writer who has been robbed of his imagination.
24 works of Canadian fiction to watch for in the first half of 2018 (CBC Books, 16/01/2018)
The dreamlike tale revolves around a former comic book writer who one day awakens in a strange institution called the Compound with no memory of his past.
Most Anticipated: Our 2018 Spring Fiction Preview (Kerry Clare, 49th Shelf, 08/01/2018)
Rabindranath Maharaj, who won the Trillium Award in 2010 for The Incredible Absorbing Boy, releases a new novel, Adjacentland, about a man who wakes up in a strange institution with no memory of his past, and has to put the pieces back together again.
Starting a new chapter (Becky Toyne and Julie van Rosendaal, Globe and Mail, 02/01/2018)
"In this disquieting, magical realist new work from the award-winning Rabindranath Maharaj (The Amazing Absorbing Boy), a man awakens in a strange institution with no memory of his past. As he searches for clues, he learns of Adjacentland, a primitive land of misfits and outsiders: the only place where imagination has survived."
Excerpt
Read an excerpt from Adjacentland.
Extras
Listen to Rabin on Get Lit with Jaime Tennant
Listen to Rabin on The Next Chapter with Shelagh Rogers
About the Author
Rabindranath Maharaj is the award-winning author of three short story collections and five novels, including The Amazing Absorbing Boy, which won the 2010 Trillium Book Award and the 2011 Toronto Book Award, and was voted a CBC Canada Reads Top 10 for Ontario.
In 2012, Maharaj received a Lifetime Literary Award, administered by the National Library and Information System Authority as part of the commemoration of Trinidad's fiftieth independence anniversary. In 2013, he was awarded the Queen Elizabeth II Diamond Jubilee Medal, which honours significant contributions and achievements by Canadians.
---
We Also Recommend