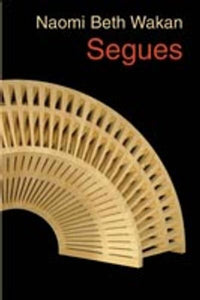 Segues
Naomi Beth Wakan
January 2005
88 pages | ISBN 978-1-894987-01-1
With lively and witty verse, Naomi Beth Wakan investigates the big and little questions in life, considering art, ageing, gardening, the universe and preparing for death. Her voice is unmistakable, and sounds as confident contemplating writing a book about sex after seventy, as it does discussing the results of a mastectomy. These are poems that everyone will identify with. Wakan elevates the beauty of the everyday, understands the impermanence of life, and has a wonderful sense of humour.
Reviews
"I loved this poetry. This is someone who's seen life, knows it pulls no punches, and who can still laugh like a child running down a hillside. I can hear her voice. I can hear her." – Richard Harrison
Excerpt
"Death by e-mail"

The subject space said 'dying'.
I was taken aback by its bluntness,
but opened it, nevertheless.
It did not seem like a call for help,
merely a statement of condition.
The message, itself, confirmed this,
telling of palliative care
and pain control, yet nothing
of the journey soon to be taken.
Nothing of the passport
and necessities for the trip.
In some way the nonchalance
of the e-mail took my breat away
and made me envious, for I have had
my passport ready for some years,
but still I seem to have forgotten
some essentials that she has remembered.
About the Author
Naomi Beth Wakan has written over thirty books, including Images of Japan, Segues, Late Bloomer: On Writing Later in Life, Compositions: Notes on the written word, Book Ends: A year between the covers and A Roller-coaster Ride: Thoughts on aging. Her book Haiku – one breath poetry was an American Library Association selection. Her essays, haiku and tanka have appeared in many magazines and anthologies and have been broadcasted on the CBC. Naomi lives on Gabriola Island with her husband, sculptor Elias Wakan.
She was named the first poet laureate of Nanaimo, BC, in 2013.
Other Titles by this Author

A Roller-coaster Ride: Thoughts on aging (2012)
Book Ends: A year between the covers (2010)
Compositions: Notes on the written word (2008)
---
We Also Recommend