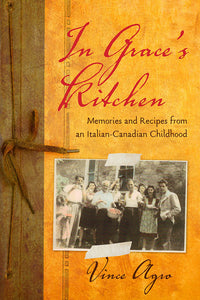 In Grace's Kitchen: Memories and Recipes from an Italian-Canadian Childhood
Vince Agro
September 2014
272 pages | ISBN 978-1-894987-80-6
Pour yourself a glass of red wine and settle in for this collection of stories and recipes from author Vince Agro. Centred around his mother's kitchen table, "from where she steered the family as if the captain of a ship," we learn of his father's butcher shop, collecting dandelions, drinking red wine, hunting ducks, butchering chickens and escaped snails. But it always comes back to the kitchen table, and the recipes for the delicious meals his mother, Grace, placed before her family every day. Whether you want to know how to cook cardoons or what they did with those ducks, In Grace's Kitchen is a wonderful immersion in a way of life that is quickly passing.
Reviews
In Grace's Kitchen (Canadian Cookbooks, 27/12/2021)
"Growing up in Hamilton in the Italian neighbourhood called the colonia, author Vince Argo paints us both a cultural and culinary picture of his youth. Vince took those memories and shared them with us weaving recipes and cultural explanations into his story telling."

Articles
Honouring Two Cooks (Nathalie Cooke, Canadian Literature, 08/09/2016)
"Agro describes Grace's culinary philosophy as he introduces readers to the mysteries of favourite dishes from the family repertoire."
All Lit Up Test Kitchen (Tanya Snyder, All Lit Up, 23/01/2015)
"This hearty soup with Swiss chard and green lentils was a perfect starter for a winter feast that included two gluten intolerants having to eat something from an Italian cookbook."
On the Fourth Day of Christmas (Jessica Rose, Not My Typewriter, 17/12/2014)
"I love this book dearly, and it's one that would be perfect not only for an at-home chef, but anybody with an interest in Hamilton's not-so-distant past."
Hamilton booksellers' guide to best books for the holidays (John Rieti, CBC News, 13/12/2014)
CBC has listed In Grace's Kitchen as one of the top three cookbooks for the holidays.
In Grace's Kitchen: pasta con acciughe (Julie H. Gordon, Shelf Life, 10/09/2014)
"I thought it was going have a strong fishy flavour – with the anchovies and garlic – but actually it was quite delicate and a bit sweet. I don't think this dish would make a satisfying main course, but if served in the traditional Italian way, where pasta is an il primo served before the meat entrée, il secondo, it is just the thing to whet the appetite."
In Grace's Kitchen: the book and our project (Julie H. Gordon, Shelf Life, 09/09/2014)
"[In Grace's Kitchen] combines all the charms of memoir, food essay, and recipe book in one volume; it is also light-hearted and quite funny. It is this ease and lightness in the writing that I most enjoy because it reminds me that cooking doesn't need to be complicated and serious to be good – it's okay to have fun in the kitchen."
Harmony's proud, but sad, story to be unveiled (Paul Wilson, Hamilton Spectator, 02/09/2014)
"This new book has more than 50 recipes, including one for dandelion salad, popular with sun-starved Italians looking for the first green thing to emerge from the cold Canadian soil."
Spring preview 2014: non-fiction, part 2 (Julie Baldassi, Quill & Quire, 18/01/2014)
"Vince Agro's In Grace's Kitchen is a collection of family recipes, archival photos, and recollections of harvesting wild plants, snails, and pigeons as part of Hamilton's Italian immigrant community during the 1940s."
Excerpt
Read about Vince's encounter with Babalucci (Snails).
Videos
Vince Agro reads from In Grace's Kitchen at the launch at the Waterfront Centre in Hamilton. Thanks to Boris Hofman for the video.
Vince Agro discusses his new book In Grace's Kitchen and prepares a pizza recipe from the book here.
About the Author
Vince Agro lives in the Westdale neighbourhood of Hamilton with his family. A proud Hamiltonian, he was born and raised in the city's North End. He taught high school English and served on the Hamilton City Council for many years, some of which were as mayor and deputy mayor. He runs his own life insurance and employee benefit consulting company. His latest book, The Good Doctor, won the 2012 F.G. Bressani Literary Prize for Fiction and was a finalist for the Scotiabank Giller Prize Reader's Choice contest.
Other Titles by Vince Agro
The Good Doctor (2011)
---
We Also Recommend