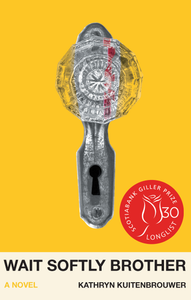 Wait Softly Brother
Kathryn Kuitenbrouwer
May 9, 2023
242 PAGES | ISBN 978-1-989496-66-4

**Longlisted for the 2023 Scotiabank Giller Prize**
**Read about how Kathryn sorted fiction from autobiography in this letter from the author.**
From lost siblings to the horrors of war to tales of selkie wives, Wait Softly Brother is filled with questions about memory, reality and the truths hidden in family lore.
After twenty years of looping frustrations Kathryn walks out of her marriage and washes up in her childhood home determined to write her way to a new life. There she is put to work by her aging parents sorting generations of memories and mementos as biblical rains fall steadily and the house is slowly cut off from the rest of the world. Lured away from the story she is determined to write – that of her stillborn brother, Wulf – by her mother's gift of crumbling letters, Kathryn instead begins to piece together the strange tale of an earlier ancestor, Russell Boyt, who fought as a substitute soldier in the American Civil War. As the water rises, and more truths come to the surface, the two stories begin to mingle in unexpected and beautiful ways. In this elegantly written novel Kuitenbrouwer deftly unravels the stories we are told to believe by society and shows the reader how to weave new tales of hope and possibility.
Reviews
The Void: Kathryn Kuitenbrouwer looks for answers (Michelle Sinclair, Literary Review of Canada, October 2023)
"Wait Softly Brother effectively weaves the world of the living and the world of writing together to convey the complicated linkage between ­memory and mythology"

Summer Time Hotlist (Jeffrey Dupuis, The Quarantine Review, 18/08/2023)
Wait Softly Brother is on this fascinating summer list.

Wait Softly Brother, by Kathryn Kuitenbrouwer (Kerry Clare, Pickle Me This, 02/08/2023)
"The richest and most satisfying kind of story, a deep literary mystery. On dwellings, and dwelling, and wells and welling. So so excellent."

Family's Civil War secrets unravelled (Cheryl Girard, Winnipeg Free Press, 17/06/2023)
"Wait Softly Brother is a suspenseful, complex and unusual work with writing both captivating and intelligent."
Kathryn Kuitenbrouwer makes hay of the secrets and lies of the past in new novel 'Wait Softly Brother' (Robert J. Wiersma, Toronto Star, 09/05/2023)
"Rich with the true stuff of imagined lives, and the imagined stuff of true lives, Wait Softly Brother is a glorious enchantment indeed."

Interviews
Different Imaginings: A Conversation with Kathryn Kuitenbrouwer (Christine Fischer Guy, Hamilton Review of Books, 23/08/2023)
A fascinating discussion between Christine Fischer Guy and Kathryn Kuitenbrouwer about Wait Softly Brother.

E352 with KATHRYN KUITENBROUWER (Jamie Tennant, Get Lit, 16/08/2023)
Jamie Tennant speaks with author Kathryn Kuitenbrouwer about her novel Wait Softly Brother.

"It is For and Of Him, All of It" Kathryn Kuitenbrouwer on Writing Her Stunning, Autobiographical New Novel (Kathryn Kuitenbrouwer, Open Book, 13/06/2023)
"I wrote the first pages of this novel in public.... I wrote automatically just to see what would arise. I was in the process of developing for myself a way of writing that was unpremeditated and that trusted the material as it emerged."

Articles
On Our Radar: Fall Fiction Special (Kerry Clare, 49th Shelf, 07/09/2023)
A nice list highlighting the great independently published books on the Giller longlist.

The Scotiabank Giller Prize Presents its 2023 Longlist (Scotiabank Giller Prize, 06/09/2023)
Kathryn's novel is chosen for the Scoitabank Giller Prize longlist!

Character Study: Wait Softly Brother (Kathryn Kuitenbrouwer, All Lit Up, 06/07/2023)
Kathryn imagines a cast for a film version of her novel – including the actor who will play herself.

Pick Up a Book: Spring Reads to Put on Your Radar (Kerry Clare, 49th Shelf, 26/05/2023)
Kathryn's wonderful novel has made this great roundup.

May Days: 12 Noteworthy Novels (Nathalie Atkinson, Everything Zoomer, 27/04/2023)
Kathryn Kuitenbrouwer makes this great list.

What We're Reading: Staff Writers' Picks, Spring 2023 (Hamilton Review of Books, 06/03/2023)
Kathryn's book makes this great roundup.
86 works of Canadian fiction to read in the first half of 2023 (CBC Books, 09/02/2023)
Kathryn's book is included on this wonderful list.

Most Anticipated: Our 2023 Spring Fiction Preview (49th Shelf, 20/01/2023)
Dan's anthology is included on this list of books you're going to love during the first half of 2023.
2023 Lookahead: 31 books I can't wait to read this winter and spring (Deborah Dundas, the Toronto Star, 01/06/2023)
Kathryn's novel makes this great list.

Excerpt
Click here to read an Excerpt of Wait Softly Brother.
About the Author
Kathryn Kuitenbrouwer
is the bestselling author of the novels
All the Broken Things
,
Perfecting
and
The Nettle Spinner
. She is also the author of the story collection,
Way Up
. Her work has appeared in
Granta
,
The Walrus
,
Maclean's
,
The Lifted Brow
, Significant Objects,
Storyville
and others. Kathryn teaches literature and creative writing at the University of Toronto.
---
We Also Recommend