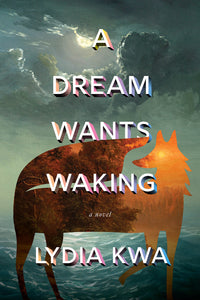 A Dream Wants Waking
Lydia Kwa
October 3, 2023
200 PAGES | ISBN 978-1-989496-75-6

In 2219 CE Luoyang, a city patched together after the great cataclysm, the half-human, half-fox spirit Yinhe moves through her most recent incarnation. The city is watched over by No. 1, an artificial intelligence housed in a giant brain created by the scientists of Central Government, which entertains and monitors all the inhabitants of the city, both human and chimerical. But No. 1 is starting to behave erratically and the power of the Spirit Supreme Assembly, with its demand for pure bloodlines, is growing. Yinhe is summoned to the Dream Zone, where the chimerical creatures formed by the scientists are contained to do the most dangerous jobs of the city. There Yinhe is given information that will give her the chance to create great change in the city, to stave off an ancient enemy and, perhaps, to reunite with her soulmate, lost many lives before.
Weaving a silken web of Chinese myth, speculative fiction and storytelling Lydia Kwa has brilliantly realized a future where questions of sentience, of personhood and of the truth of dreams wrap around a timeless quest for freedom and for love.
Advance Praise
"Deeply in touch with Chinese earth-based knowledge, Lydia Kwa brilliantly propels fox spirits, ghosts and forgotten history into the future. This is fantasy that remembers with a purpose, giving us the chthonic roots we need to inhabit the planet in a better way." – Larissa Lai, author of The Tiger Flu and Salt Fish Girl 
"A Dream Wants Waking is the satisfying exhale we've been long anticipating from this acclaimed and multi-talented author. As in her earlier books, myth, history, fantasy, quest and questions are intricately layered in this latest novel, resulting in a masterpiece of knowledge, dream and imagination. As usual with Lydia Kwa's work, I was immediately captivated by complex, conflicted characters, shaped with wit and charm, even with the most wicked of villains. This novel is the crown jewel of an already unique and brilliant collection of books that has changed my way of reading. I dare you to let it change yours too." – Jenny Heijun Wills, author of Older Sister. Not Necessarily Related.: A Memoir
"Lydia Kwa's A Dream Wants Waking is too prescient to distrust, too fantastical to revolt against. The reincarnation of Yinhe, the half-human half-fox spirit, brings us to a future that's terrifying and that seems already here. Like a mirror of the world, each page shows each of us an uncanny reflection of who we were, and who we will be. Yet the story is also about reclaiming love in a time when all hope is lost. Days after I finished the last page, I'm left haunted and mesmerized. These dreams of Yinhe are a must-read!" – Dan K. Woo, author of Taobao and Letters to Little Comrade
Reviews
A Dream Wants Waking (Publishers Weekly, 15/08/2023)
"The melding of the technical with the mystical is masterfully done. This thrilling and innovate tale will have readers hooked."

Articles
74 works of Canadian fiction to read in fall 2023 (CBC Books, 31/08/2023)
So nice to see the brilliant new novel by Lydia Kwa on this list at CBC.

Most Anticipated: Our 2023 Fall Fiction Preview (49th Shelf, 11/08/2023)
Lydia's novel is included in this great roundup.

About the Author
Lydia Kwa
was born in Singapore but moved to Toronto to begin studies in Psychology at the University of Toronto in 1980. After finishing her graduate studies in Clinical Psychology at Queen's University in Kingston, she moved to Calgary, Alberta; then to Vancouver, BC, and has lived and worked here on the traditional and unceded territories of the Coast Salish peoples since 1992.
Kwa has published two books of poetry (The Colours of Heroines, 1992; sinuous, 2013) and four novels (This Place Called Absence, 2000; The Walking Boy, 2005 and 2019; Pulse, 2010 and 2014; Oracle Bone, 2017). Her next novel, A Dream Wants Waking, will be published by Buckrider Books, an imprint of Wolsak & Wynn, in Fall 2023. A third book of poetry from time to new will be published by Gordon Hill Press in Fall 2024.
She won the Earle Birney Poetry Prize in 2018; and her novels have been nominated for several awards, including the Lambda Literary Award for Fiction.
She has also exhibited her artwork at Centre A (2014) and Massy Art Gallery (2018) and has self-published two poetry-visual art chapbooks. An essay "The Wheel of Life: From Paradigm to Presence" appears in the art catalogue In the Present Moment: Buddhism, Contemporary Art, and Social Practice by Haema Sivanesan (Art Gallery of Greater Victoria, 2022).
---
We Also Recommend