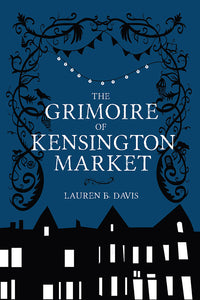 The Grimoire of Kensington Market
Lauren B. Davis
OCTOBER 2018 
324 pages | ISBN 978-1-928088-70-7
**Shortlisted for the 2019 CAA Fred Kerner Book Award**
The downtown core of Toronto is being consumed by elysium, a drug that allows its users to slip through the permeable edges of this world into the next before consuming them utterly. Peddled by the icy Srebrenka, few have managed to escape the drug and its dealer. But Maggie has.
Inspired by Hans Christian Andersen's "The Snow Queen," and woven through with northern folk tales, The Grimoire of Kensington Market is the story of Maggie, proprietor of the Grimoire bookstore, the cosmic nexus of all the world's tales. Years after beating her addiction, Maggie is dismayed by the reappearance of Srebrenka in her life. Although she resists temptation, she quickly learns that her brother, Kyle, has been ensnared by Srebrenka's drug-laced beguiling.
Driven by guilt and love, Maggie sets off on a quest to rescue Kyle from the Silver World, where robbers stalk the woods, where tavern keepers weave clouds to hide mountains and where caribou race along the northern lights. There, she must discover what hidden strengths still lie within her.
Advance Praise
"Davis confidently paints a magical world rich in detail where human trials unfold against a fairy-tale tapestry. Weaving a fresh legend from a mosaic of ancient stories, she creates a bold new world where wit equals witchery and kindness is as valued as courage."
– John C. Foster, author of Mister White
Reviews
Fantasy Lit Grappling with Drug Addiction (Robin Bates, Better Living Through Beowulf, 27/06/2019)
"To know Davis's back story is to recognize how monumental [Maggie's] struggle is. Fantasy helps her go there."
In Review – The Grimoire of Kensington Market (The Word on the Street, 28/01/2019)
"Fairy tales are meant to take one on a deeply symbolic journey within, and that is what the author succeeds at so brilliantly here [...] All good magic brings healing, and that is what this story offers as a gift. Read it!"

A Review of Lauren B. Davis's The Grimoire of Kensington Market (Sarah O'Connor, The Hamilton Review of Books, 22/12/2018)
"The Grimoire of Kensington Market is a stunning novel and a great experimentation with magical realism. Davis brings readers into this genre flawlessly, using a purely Canadian-flavoured magical realism that makes the novel unique. Readers won't be able to help but fall under its spell."
THE GRIMOIRE OF KENSINGTON MARKET BY LAUREN B. DAVIS (Naomi, Consumed By Ink, 13/12/2018)
"What follows is a fantastical adventure, dark and alluring. For the child in us, there are flying caribou and talking flowers, roads that roll up behind you and a palace of snow and ice [...] And this is not just a fairy tale with talking animals and happily ever afters, it's an exploration about the power of addiction – how it can alter your relationships and take over your life."
Thin Places (Jesse Eckerlin, Canadian Notes & Queries, Fall 2018)
"The Grimoire of Kensington Market is a powerful fantasia for adult daydreamers and bibliophiles."
Lauren B. Davis' The Grimoire of Kensington Market (Marcie McCauley, The Temz Review, 09/11/2018)
"Here is a bookstore that grows and shrinks as books arrive and depart, that welcomes readers who understand this kind of shape-shifting [...] Yet, the bookshop is rooted in reality, in Toronto's Kensington Market [...] Specific references to an urban landscape are useful for readers who are uncomfortable with reading fantasy. The Necropolis, the Canada Malting Silos, the Rogers Centre, Allan Gardens, even the cow statues in the financial district: today's Toronto is in clear evidence. This specificity is used to disorient rather than root, however, which readers realize when the Regent Park neighbourhood is referred to as The Forest. Maggie knows this area from an earlier time in her life, a time both integrally connected to her daily life and far from her current reality as proprietor of the Grimoire."
Alchemy of magic, a fairytale and the opioid crisis in powerful new book (Trevor Corkum, The Toronto Star, 26/10/2018)
"Davis does a fine job balancing these fraught moments of tension with lighter, magical scenes, such as her various luxurious sleepovers at mystical hotels and loving monologues with her canine sidekick Badger. [...] Beneath the fairytale lies a probing exploration of the current opioid crisis. Davis highlights how the collapse of social supports and the marginalization of addicts creates the perfect storm, hollowing out inner-city Toronto and leaving wounded orphans and ruined lives in its wake. When Maggie reaches her final destination to confront Srebrenka, the author spins the kinds of pyrotechnics appropriate to the climax of such a dramatic quest."
Interviews
"Books are a universe and a dream and an adventure, right in our hands." - Lauren B. Davis (Book Box Love, 03/03/2019)
"Reading and stories are angels to wrestle with, a way of discovering what we agree with, what we disagree with, what we believe, what matters to us."
E115 with LAUREN B. DAVIS (Jaime Tennant, Get Lit, 31/01/2019)
An interview with Lauren.
"Fairy Tales are a Sort of Magic in Themselves" Lauren B. Davis on Her Magical Kensington Market Novel (Open Book, 09/01/2019)
"Writing is a prayer, an invocation, an act of creation [...] Writing can be a kind of spell, like those contained within traditional grimoires, spells that have a tangible effect. Books change the world."
How Lauren B. Davis explores addiction with novel The Grimoire of Kensington Market (CBC Radio, 03/12/2018)
"With The Snow Queen and with finding that metaphor, I was able — within the structure of the fairytale — to create not only a story about addiction, but also a narrative."
Lauren B. Davis on The Grimoire of Kensington Market (Shelagh Rogers, The Next Chapter, 03/12/2018)
Lauren B. Davis on her new book The Grimoire of Kensington Market.
Staying in with Lauren B. Davis (Linda Hill, Linda's Book Bag, 10/11/2018)
"It's a journey not only into the heart of magic and winter, but also into the heart of a woman as she discovers her courage and the wild, undeniable power of love."
Articles
Beyond Station Eleven: Six more otherworldly books set in Toronto (Daniella Ricchezza, Torontoverse, 20/03/2023)
The Grimoire of Kensington Market is included in this cool list for Torontonians seeking sci-fi, paranormal, and fantasy tomes set in their backyard.

Do You Keep Writing? Three Lessons (Lauren B. Davis, Lauren B. Davis blog, 4/12/2019)
"I didn't publish until I was over forty." Lauren offers some advice for writers about motivation.

Fantastical fairy tales to spark your imagination (All Lit Up, 12/03/2019)
Lauren's book is included on this round-up of modern day fairy tales.
Read This Then That: Fairy Tale Edition (All Lit Up, 26/02/2019)
"Both authors evoke vivid imagery with their rich language, whether it be the harsh winter of the Russian country side or the cramped stacks of an old musty book shop. The characters of Vasilisa and Maggie both struggle with their past, attempting to reconcile their legacies with their families, even as forces outside of their control threaten to divide them."
HIGHLIGHTS OF 2018 (Naomi, Consumed by Ink, 09/01/2019)
Lauren's book is on Naomi's list of the best books of 2018
Our bestsellers for November 2018! (Bakka-Phoenix Books, 14/12/2018)
Lauren's book is one of Bakka-Phoenix's bestsellers for November 2018!
The Globe 100: Our favourite books of 2018 (The Globe and Mail, 30/11/2018)
Lauren's book makes the Globe's top 100 books of 2018.
Cold Comfort (Dory Cerny, Quill & Quire, November 2018)
"'I tried to write about it as memoir, and I could not do it. And then I tried to write about it as realistic fiction, and I could not do it,' she says, 'But it still felt like something I needed to talk about, a story that needed to be told.'"
13 scary good Canadian books for Halloween (CBC Books, 31/10/2018)
Lauren's book picked as a scary good Canadian book for Halloween
Princeton author debuts her latest novel (Ken Downey Jr, Central Jersey, 26/10/2018)
"Davis' eighth piece of fiction was inspired by her interest with fairy and folk tales, but it also deals with the struggle of addiction and drug abuse. Davis uses the power of fiction to speak on such a pressing issue in our society today in a way that is attention-grabbing for the reader."
24 works of Canadian fiction to watch for this fall (CBC Books, 11/09/2018)
"Toronto is in the grips of a drug called Elysium, which sends its users past the edges of the world. Recovering addict Maggie is the proprietor of a magical bookstore called The Grimoire and one day begins to receive notes that say simply "follow me." Maggie comes to realize that the notes are from her brother Kyle, whose Elysium addiction has taken him deep into the Silver World."
The Syllabus: Back-to-School Books for Grownups (Kerry Clare, 49th Shelf, 01/09/2018)
Lauren's book makes the list of "campus novels, literary homages and historical imaginings." Reading these recommended books will make you feel like a student again.
25 books that are going to make a splash this fall (Deborah Dundas, The Toronto Star, 31/08/2018)
"In this book, Hans Christian Andersen's tale "The Snow Queen," inspired Davis' modern fairytale/fable about Toronto being consumed by elysium, a drug that allows users to enter another world. Plus it's got caribou racing along the Northern Lights."
Most Anticipated: Our 2018 Fall Fiction Preview (Kerry Clare, 49th Shelf, 09/07/2018)
"Lauren B. Davis's The Grimoire of Kensington Market is a fairy tale for our time, where addiction meets magic, with all the dark lessons and startling characters of age-old folk tale and myth."
Fiction: Novel Effects (Steven W. Beattie, Quill & Quire, July 2018) 
"A Toronto bookstore proprietor goes on a mystical adventure in a novel that uses fairy-tale devices as a metaphor for addiction. As a new designer drug, Elysium spreads throughout the downtown core, the novel's protagonist must follow a series of mysterious messages from her brother, who passed over beyond the edge of the known world into a shadowland of flying caribou and magical tavern owners."
Excerpt
Read an excerpt of The Grimoire of Kensington Market.
Videos
Lauren reads from her novel during the Wolsak and Wynn Fall 2018 Launch at the Staircase Cafe in Hamilton.
About the Author
Lauren B. Davis is the author of Against a Darkening Sky; The Empty Room, one of the National Post's "Best Books of the Year"; and Our Daily Bread, longlisted for the Scotiabank Giller Prize, and a Globe & Mail "Best Books of the Year". Her other books include the bestselling and critically acclaimed novels The Radiant City, a finalist for the Rogers Writers' Trust Fiction Prize, and The Stubborn Season, as well as two short story collections, An Unrehearsed Desire and Rat Medicine & Other Unlikely Curatives. Lauren was born in Montreal and now lives in Princeton, New Jersey. For more information, please visit her website at www.laurenbdavis.com.
---
We Also Recommend