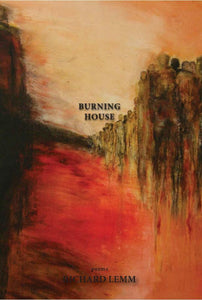 Burning House
Richard Lemm
March 2010
126 pages | ISBN 978-1-894987-40-0
In a portrait-gallery of poems, Richard Lemm considers everything from the history of war in the United States to an undertakers' convention in Charlottetown, Prince Edward Island. History, war and a search for understanding thread through this collection, in poems that have vivid, dynamic imagery and a strong emotional resonance.
Articles
Poem 33: Richard Lemm on War, History, and Heroes (The Literary Press Group of Canada's Staff blog, 30/04/2013)
Click the link to read "Peril" and a Q&A with Richard Lemm.
Reviews
Contemplating Nostalgia (Alexis Foo, Canadian Literature, 01/09/2013)
"Burning Houseleaves the reader with a yearning for more of Lemm's undeniably masculine poetic voice.... It is his frankness and refusal to romanticize the key moments in his poems that allows his verse to take on sensuousness that is as authentic as it is provocative."
Review (Gillian Harding-Russell, Prairie Fire Review of Books, 12/1/2011)
"This is a rich and cohesive collection that treats heroism in many forms and guises without apology and with much exuberance and good humour. Lemm has an ear for cadence and by drawing allusions from social culture and history he creates a resonant verse that bursts with energy and personality."
Review (Erling Friis-Baastad, Malahat Review, 5/1/2011)
"It's important to stress that gloom does not dominate this book. There are poems of sorrow and loss, certainly, but Lemm's recollections are kindled with moments of humour and with magic as in his haunting 'Hendrix of Arabia,' about the rebirth of a rebellious spirit of defiance and doubt that has shown up among troops throughout history."
Burning House by Richard Lemm (Aaron Brown, The Canadian Book Review, 10/6/2010)
His poetry is simplistic but yet is of very high literary quality. Burning House is a fine addition to the PEI and wider Canadian literary scene and would be a great addition to anyone's poetry library.
Review: Burning House, by Richard Lemm (Mark Sampson, Free Range Reading, 10/1/2010)
"When it comes to Richard Lemm and his poetry, America's loss is Canada's gain. With Burning House, he solidifies his place among Acorn, Helwig, MacDonald and Steinfeld as one of PEI's strongest poetic voices."
The Poetry Shelf (The Midwest Book Review, 7/1/2010)
"A followup to his previous volumes which were loved, he brings his unique brand of humor and philosophy to life, and makes for a solidly recommended read."
Excerpt
Check out a sneak peek of poems from Burning House by Richard Lemm.
About the Author
Richard Lemm
is an award-winning author, and a professor of literature and creative writing at the University of Prince Edward Island. He has published four previous collections of poetry, a book of short fiction,
Shape of Things to Come
, and a biography of Canada's "People's Poet,"
Milton Acorn: In Love and Anger
. His most recent poetry book before
Burning House
was
Four ways of dealing with bullies
(Wolsak and Wynn, 2000). Born in Seattle, he immigrated to Canada in 1967, and moved to Atlantic Canada in 1979.
---
We Also Recommend