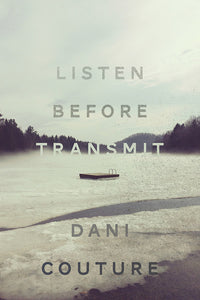 Listen Before Transmit
Dani Couture
April 2018
90 pages | ISBN 978-1-928088-54-7
**Shortlisted for the 2019 ReLit Award for Poetry**
**Shortlisted for the 2019 Pat Lowther Memorial Award**
Dani Couture's latest poems are transmissions that travel across the cosmos and the spaces we live in, as well as within the more intimate distances we navigate between one another. Distances we hope to bridge with contact, often to profound or disastrous effects. With language rooted in science, sociology, memoir and aesthetics, she questions the limits of our bodies, both human and celestial. Like the subtle cues we lend one another and the hopeful messages we send into deep space, these poems broadcast our greatest aspirations and vulnerabilities.
Advance Praise
"The poems in Listen Before Transmit exist in the slippage between language, experience and memory – deftly moving one way, then another, in a call-and-response to the human condition. A beautiful and accomplished collection."
– Helen Humphreys, author of The Ghost Orchard
"A deft collage of syntactical fragments, the title poem of Listen Before Transmit foregrounds the principles of uncertainty, estrangement and disconnection that underlie the haunting mindscapes of this book. But there is also a countermusic in the book that strengthens the hold these poems gain over the reader, a music enacting the human search – however fraught, even risible – for connection and coherence in an indifferent universe. In 'Minus Time' both movements are manifest: 'Who were you when you understood the sun / was simply a star? That you, in part / were made / of collapse. You, smallest sun.' Couture's questing figures probe galaxies within and without, in the process enmeshing us in the excitement and risk of both sorts of journey. Spend time with this book. Agile in its management of form, intellectually and emotionally nuanced, it will repay you with riches."
– Mary Dalton, author of Edge: Essays, Reviews, Interviews

"Equal parts generous and curious, Dani Couture's Listen Before Transmit is born from the tender space where history ends and the future begins. These beautifully crafted poems place hunger and joy beneath a microscope, attuning the reader to what is magnified there . . . Listen Before Transmit opens the skies for us, demanding we ask more from the science fictive statics our bodies swim inside. Imagine the stars looking down at us when we look up at them: in this intimate and daring book, they do."
– Jessica Rae Bergamino, author of The Desiring Object or Voyager Two Explains to the Gathering of Stars How She Came to Glow Among Them
Reviews
Today's book of poetry: Listen Before Transmit. Dani Couture. A Buckrider Book/Wolsak & Wynn. Hamilton, Ontario. 2018. (Michael Dennis, Today's Book of Poetry, 17/05/2019)
"Listen Before Transmit is a highly sophisticated series of messages sent from somewhere that seems like the present and between someplace that feels like the future. It's all dreamlike familiar, deju vu freaky and future skeptical. Dani Couture's voice is uber-modern. In fact Listen Before Transmit may be seen as an introduction to a new lexicon, a new emotional matrix."
REVIEWING THE SHORTLIST: Listen Before Transmit | By Dani Couture (Klara du Plessis, League of Canadian Poets, 14/05/2019)
"It's a book that adds layers to the reader's experience over time, that allows for new discoveries, that shares deeper affective intricacies with each cumulative access point."
Dani Couture. Listen Before Transmit. Hamilton, ON: Wolsak and Wynn/Buckrider Books, 2018. (Jan Conn, Arc Poetry Magazine, Spring 2019)
"In 'Last Days' we are given, near the end, to understand that the orbit embarked upon was known to be 'a one-way-ticket,' which takes us back to the unexpected first stanza: 'The trick to hurtling through space or sea / in the emptied gas can that may double // as your coffin is extra doors.' I love the echo of David Bowie's 'Space Oddity' here. Couture has extra doors—unexpectedly built-in exits—in nearly every poem in this unstoppably smart book."
Listen Before Transmit by Dani Couture (Corinne Gilroy, Understorey Magazine, 18/12/2018)
"Listen Before Transmit's directive is nothing less than the revelation of immanence through the illusion of transcendence: ascent as the revelator of decline."
New poetry to make sense of modern life (Barb Carey, Toronto Star, 29/06/2018)
"The book's title is a radiocommunications term, referring to the fact that transmitters are programmed to establish they are in a radio environment before broadcasting. Connection over a distance is also what Couture explores and interrogates in her ambitious fourth collection. [T]his inquisitive and inventive Toronto poet enjoys "speculating on our speculations." The poems move restlessly and elliptically from the intimate to the cosmic, and throughout there's a poignant awareness of mortality."
Listen Before Transmit by Dani Couture (Catherine Owen, Marrow Reviews, 27/06/2018)
"The trivial is safe. And it can be very well-crafted with a full stamp of approval on it from the necessary departments. So, darned hard to critique even as you're tipping it in the bin. But that is not what is going on in Couture's poems. They, in fact, avoid the trivial and skirt the maudlin while still holding place for the Model T and CCTV at the same time."
Interviews
The Poetry Extension's Poet of the Month: Dani Couture (Natalya Anderson, The Poetry Extension, 17/07/2018)
"I didn't come to understand until much later [...] how different life on a military base was from civilian life — its unique social constructs and contracts. What stories are told, how they're told, and by whom. When we transitioned into civilian life when I was 14 or 15, I felt a bit shell-shocked. I had a lot to learn and process."
From military brat to acclaimed poet, Dani Couture has never lost her sense of curiosity (Shazia Hafiz Ramji, Quill & Quire, 19/04/2018)
"It was only when I started to look at all that I had done that I realized I was questioning ideas of home, of space, both within the body and outside it, as well as the literal space our planet is in."
"Titles are Chameleon in Nature" - Dani Couture on Poetry, Titles, & the Power of a Single Word (Open Book, 13/03/2018)
"More and more I'm beginning to realize that what I think the function of anything is either more or less than what was intended. And functions can change."
Articles
Celebrate Pride Month with All Lit Up (All Lit Up, 01/06/2020)
Dani's book is featured on All Lit Up's list of stellar LGBTQ+ reads for Pride Month!
Behind the Scenes with Book Reviewers: Shazia Hafiz Ramji (Hamilton Review of Books, 17/12/2018)
Shazia gives a shout-out to Dani's book as an unsung book from the past year.
Event Recap: Resonance Reading Series Finale (Rosie Long Decter, Vallum: Contemporary Poetry, 22/08/2018)
"Dani Couture's cool voice drifted across the room as she recited a poem that looked at life as a process of recycling and reorganizing: "here on earth, everything stands for one thing or what it used to be," she read. "How did you keep splitting to only become one thing?" Her poems dealt carefully and quietly in connections and absences. Her reading felt a bit like floating through a hazy day, providing the lovely calm of not needing to arrive anywhere in particular."
16 Books for Pride Month (Kerry Clare, 49th Shelf, 11/06/2018)
Dani's book is recommended reading for Pride Month.
What This Magazine contributors and alumni have been writing (This Magazine, 27/04/2018)
"Former This lit editor Dani Couture's latest book of poetry deals with transmissions across space and time, and between one another. Her collection speaks to the limitations of our bodies, and searches for meaning in the cosmos."
14 Canadian poets to watch in 2018 (Ryan B. Patrick, CBC Books, 13/04/2018)
"Listen Before Transmit explores the human condition through the spaces we live in as well as the spaces, physical and emotional, between us."
Contact by Dani Couture (Poetry Foundation, 01/12/2017)
"Most Anticipated: Our 2018 Spring Poetry Preview" (Kerry Clare, 49th Shelf, 05/02/2018)
"Dani Couture's new collection is Listen Before Transmit, poems that travel across the cosmos and the spaces we live in, as well as within the more intimate distances we navigate between one another."
65 Queer and Feminist Books To Read In 2018 (Carolyn Yates, Autostraddle, 02/01/2018)
"The poems in this collection are rooted in science, sociology, memoir and aesthetics, and extend across public and personal spaces to examine our bodies, both human and celestial."
Excerpt
Read an excerpt from Listen Before Transmit
About the Author
Dani Couture is the author of several collections of poetry and the novel Algoma (Invisible Publishing). From 2012 to 2016, she was the Poetry and Fiction Editor at This Magazine. Couture's work has been nominated for the Trillium Book Award for Poetry, received an honour of distinction from the Writers' Trust of Canada's Dayne Ogilvie Prize for Emerging LGBTQ Writers, and won the ReLit Award for Poetry. Her poems have appeared in publications in Canada, the US, and the UK, and several editions of Best Canadian Poetry in English.
---
We Also Recommend